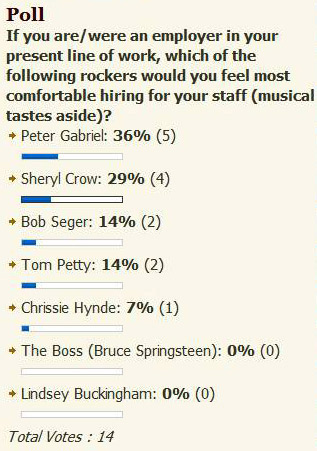 Early poll results, as of 11:05 am EST on 5/13/09.
This is a tough one so I thought I'd create a post to work this thorny issue out in public. I'd need someone with good writing and organizational skills and an eye for detail. They would also have to be reliable.
Springsteen and Buckingham both strike me as control freaks musically. This could be a big benefit if channeled properly. I would imagine that they would really turn in good work product when they were done, and Springsteen in particular has a way with words. My concern with both of them is that they might let Great become the enemy of Good. Seldom are things perfect in life and I can't be waiting around on a project while they continually revamp it in search of perfection. So, I'll bring them in for interviews and hang on to their resumes but they wouldn't be my first choices.
Sheryl Crow and Chrissie Hynde are appealing because they both strike me as team players, notwithstanding Chrissie's past association with the punks. Also, as women, I could get away with paying them 33% less than a man, and in this economy I have to keep an eye on the bottom line. However, over the years I've heard a lot statements that Chrissie has made in support of various causes and I can't risk her blurting that kind of stuff out during meetings when we are trying to close a deal. As for Sheryl, I suspect there is very little chance that she would pass the drug screening.
Peter Gabriel is out because he bailed on Genesis right as they were on the cusp of getting big. To me, this shows that he will put his own interests before that of the team. Also, I'm uncertain if he's charmingly eccentric or just plain weird. In either event, I have a business to run and I don't want to have to revise my office dress code to include the phrase "no fox head hats".
That leaves us with Seger and Petty. Both seem very dependable. Seger is the ultimate "C curve" guy. He would punch in right at 9 and leave right at 5. He would meet every deadline. He would be a real asset to the company softball team. But I wouldn't expect any extra effort from him no matter what the circumstances. And there might be union problems.
There's no question that Petty's work product is much higher quality than Seger's. I often tend to underestimate Petty (perhaps it's the lethargic speaking voice), but he is extremely reliable. You're rarely going to get "A" quality work with him but you will always have a steady stream of "B's" and "B pluses". His loyalty is well demonstrated by the fact that he stuck with his second bass player through his addiction and after Howie died, he hired the original guy back. He's constantly progressing but in a steadfast way. He seems like he'd put in the extra hours if need be but he wouldn't let the job take over his life. I don't want my staff to burn out.
So I'm going with Petty. I'll offer the low range of the salaries and two weeks vacation but I'll let him talk me up 10% on the salary and up to 3 weeks' vacation so he can feel like he's getting a deal. I'll need him to start ASAP.