Townsman trolleyvox asked if we could talk about this 1969 promotional film for David Bowie, Love You Till Tuesday. Time has come today, and while we're at it feel free to talk about a 1976 film starring Bowie, Nicholas Roeg's The Man Who Fell to Earth, which I finally watched all the way through.
My main thought about the promotional film is that the '60s could not contain Bowie. He had no available space to occupy. Everything he tried to do in a '60s vein, including whimsical gnome pop, UK pop balladry, and soft-shoe/mime routines, had already been done better by Syd Barrett, The Bee Gees, and Davey Jones (The Monkees' Davey Jones, that is), respectively. The scenes with him playing alongside his buddies are really awkward. David did not play well with others. He had to be his own man. He had to help shape the next decade. It was a matter of survival.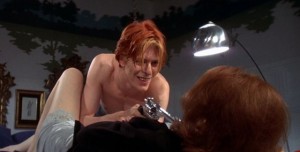 Speaking of matters of survival, Bowie is really good in The Man Who Fell to Earth. I've mildly enjoyed him in other small acting parts, but he does fall into self-consciousness more than a real actor should. In Roeg's film he gets to play a variation on his musical character. He's even an alien space traveler who misses his wife and is named Thomas. (No word on whether he ranked as a Major on his home planet.) As an added bonus, I got to see way more of Candy Clark's acting talents than she was able to display in a movie from my childhood that did much to shape me: American Graffiti.
When I was younger Roeg's visual-heavy style left me unsatisfied, but since seeing this movie and re-watching Walkabout a few months ago I'm willing to see him as more than a Thinking Man's Ken Russell. Maybe I'll revisit Performance or Don't Look Now or even the one about Einstein and Marilyn Monroe.  Jeez, I'm turning into Buskirk!
(Speaking of turning into a fellow Townsman, I've been listening to the Grateful Dead station on Sirius as I drive from Detroit to Ann Arbor and back on a current business trip. I'm starting to see where BigSteve and geo are coming from now and then—not that I find myself liking too many new songs, but when faced with live Dead shows and Mickey Hart solo recordings versus all the absolute mediocrity of stations like Deep Traxx and Underground Garage at least the Dead have a center that's meaningful to them. Unless you're my man hrrundivbakshi perhaps you haven't heard mediocrity until you've heard some Deep Traxx by ZZ Top. They also played an album cut from Steely Dan that made me appreciate the standard hit song by them I heard on some other station featuring some weird '70s AOR, including the satellite radio highlight of my trip so far: Jefferson Starship's "Call On Me"!)