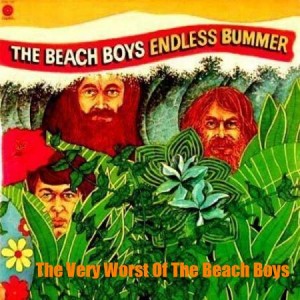 You've probably heard that visionary Beach Boys leader Mike Love fired Brian Wilson, Al Jardine, and David Marks from his band following the Boys' amazing 50th Anniversary Tour. Happy anniversary. You're fired. Only original replacement member Bruce Johnston remains on the Good Ship Love.
I'm disappointed and can't understand why Love doesn't want to tour with Al, David and me. We are out here having so much fun. After all, we are the real Beach Boys. – Brian Wilson
I've seen a few friends bemoaning this sad state of affairs on Facebook. It's one more chance to state that Mike Love is an asshole. You know what I think?
All those geezers should get a job or put out solo Christian rock records or open a bait and tackle shop. That band checked out so long ago I honestly can't believe anyone cares. Don't they have anyrhing better to do with their lives? They don't get along. They cannot sing anywhere near the way they once did. Two Wilsons are dead. Sorry to be a crank, but this soap opera continues to tear away at my ability to love their records.
Summer may be endless, Boys, but your band ended long ago.