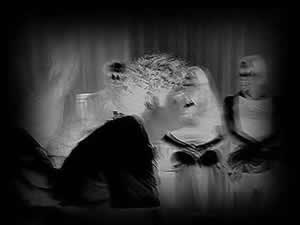 The heat is on!
I hope none of us had unrealistic expectations for Day 1 of our Velvet Intervention. Townsman Hrrundivbakshi deserves Mad Props for hearing us out and responding in detail and with passion. It's hard to be confronted by one's peers and asked to come clean with veiled and long-harbored disdain for a band that's not only critically acclaimed band but that's at the juncture of one of Rock's most significant points in the ongoing development of Cool. As you give your fellow Townsperson a piece of your mind, I want you to pause for a moment and consider how you'd feel in this trusting situation, surrounded by friends and fellow deep thinkers, all the while knowing the Cool Patrol is circling on the periphery of our more thoughtful, considerate dialog.
Today we'll ask Hrrundi to share his thoughts on 3 songs from The Velvet Underground's second album, White Light/White Heat. Even for fans of the VU, unless you only got into them to piss off your square parents and live vicariously through the band's "F-U" factor, this is usually the challenging one. For starters, there's no Teutonic Ice Goddess for shy college boys to fantasize over and/or project onto. Then, if the production of the first album was typically shoddy, this one sounds real bad. No one's testing out hi-fi equipment with this album. Finally, the album has almost no diversity, and the second side is hogged by a 17-minute-plus middle finger of a noisefest jam, the legendary but not always listenable "Sister Ray".
Overh the course of this album, much of which I have not included for today's session, this might be the point at which Cale's grating side outdoes Hrrundi's appreciation for the Welshman's formalist leanings. We'll see. I do think that, beyond predictable laments over two of these songs, Hrrundi will be challenged to push further into his own psyche and share with us points of view that we'll find more enlightening than we witnessed on Day 1. I'm pretty sure he's going to have a much less stressful day today, as he develops trust with the group. Let's let the man himself take some time to assess and comment on these tracks!