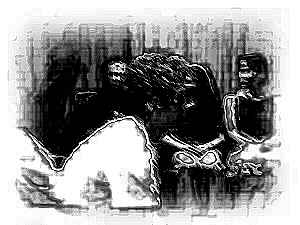 Closet time.
For my money, the third VU album, the self-titled "couch" album, is what cemented the band's long-term reputation and influence. With one or two questionable exceptions (eg, "The Murder Mystery", which I'm not saying is all bad and out of place, and "That's the Story of My Life", which I think influenced the future of indie rock in more negative ways than any of the out-of-tune jams that seem to bug Hrrundi) it's a seamless and self-contained album.
Even more than the artfully monochromatic White Light/White Heat, this album has a definite identity, with newcomer Doug Yule smoothing out some of the gaps likely in any recording led by Lou Reed while also providing a taste of what the band lost when John Cale split. The guitar interplay of Reed and Sterling Morrison is as distinctive and rightfully influential as the interplay of any other famous guitar duo in rock, from Richards and Jones to Richards and Taylor to Allman and Betts to Verlaine and Lloyd and so on. I would go as far to say that this album set the course for the four-decade (and counting) journey of Lou Reed…As His Music Was Meant to Sound! All future Lou recordings would be judged against this album.
What's this all mean to our friend HVB, who's never been the least bit interested in the artistic journey of Lou? Nothing positive, I would think.
Hrrundi, here's a quartet of VU songs that will enable you to get back in touch with your inner VU torment. Enjoy – or dislike – or whatever you feel is the appropriate emotional response. You're among a loving, trusting community.