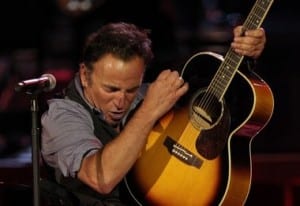 In the recent, bizarre Twins thread, MrHuman mentioned that Bruce Springsteen has an original song called "Tomorrow Never Knows" that is NOT a cover of the Beatles' song by that name. What really stuck in my mind, however, was MrHuman's belief that The Boss has never done a Beatles cover. That's hard to believe (didn't he sing "Imagine" the night Lennon was killed?), but I'll take him at his word, especially because it got me thinking about what Beatles song I could imagine Springsteen covering, and how much I would be likely be irked by that cover.
After a few seconds thought, I imagined The Boss doing a somber, earnest, Dust Bowl–tinged, solo acoustic version of "Help," with his forearms pumping under rolled-up white sleeves and biceps bulging from his vest. I heard him growling the words Help me if you can I'm feeling down. I pictured him egging on the crowd to sing along on the falsetto part at the end of the chorus—Won't you plea-ease help me? The Boss's teeth would grit through his turned-down mouth as he thrusts his Gibson acoustic forward and reaches for those high notes. As the final chorus with the little coda comes to  a close, I see Bruce smiling warmly, triumphantly, as pleased with his personal take on this favorite song from his teenage years as the audience is with having heard it. I see myself shaking my head and feeling like a dick for not getting swept up in the moment.
How about you? What Beatles song can you imaging hearing The Boss cover, and how would it turn out for you? Your imagined cover can result in a positive sensation; you don't have to be a dick, like I have imagined myself being.
I look forward to your thoughts.