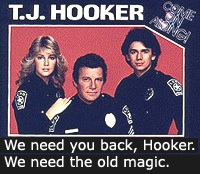 Adrian is the hot one.
I understand that the number of citizens interested in this performance review will be small, but those among the interested deserve this. I sat 20 feet from the Adrian Zmed performing a song-and-dance retrospective of his career. The chicken-missus and I went on a cruise of Alaska. Skipped the comedian and the magician, but I was intent on having good seats for Zmed. He was on the ship for one night only. Unfortunately, the show was copywritten, so all photos and recording devices were prohibited.
I was hoping and expecting to see him in a state of physical decline that would pay off in huge laughs, but he disappointed. His hair is much thinner than his Dance Fever days, but dyed a robust midnight black. His man-girdle secured his gut into an age appropriate paunch, and his wind did not abandon him during the 40-minute show. He delivered healthy sweat stains on the body suit.
Highlights included his tribute to Broadway shows because, as you know, he was good enough for the stage production of Grease, but really only good enough for Grease 2 when they were making the movies. The choreography with the Island Princess Dancers was pretty tight, so I'm left to wonder: does Zmed fly to various cruise ships around the world, and then perform with a troupe that's learned his act as if it were a football playbook, or does he actually live in remote Alaska and just gets on and off that one boat each week? That would explain his easy rapport with the Island Princess Dancers. (The previous night the Island Princess Dancers had performed a tribute to Motown that was instead called Motorcity. A singing and dancing troupe of 14 people prancing around to Motown, and not one black person among them. That's how good they were.)
Midway through, he sat on a stool, and did an irreverent slide show of his various roles. He shared that when he and Shatner were filmed in the squad car on Hooker, they were filmed from the waist up, so usually didn't wear pants. He did a cat growl at the slide of Heather. He received big applause for shots of Dance Fever and Bachelor Party.
Ended with a big Grease-attired '50s song, Zmedley, that included dancing with an old lady in the audience, and many calls to give it up for the Island Princess Orchestra. Goodnight, and no opportunity for a quick photo with a fan.