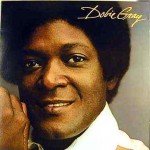 In a recent Dugout Chatter, Mr. Moderator mentioned the passing of two great names in music history: Johnny Otis and Etta James. I'd like to mention the recent death of another notable if minor artist. Born in Texas in 1940, Dobie Gray started out in the 1960s as a soul singer. His most notable early hit was his 1965 cover of "The 'In' Crowd" (written by Billy Gray), a manifesto of pre-hippie coolness that reached #13 in the Billboard Hot 100. His smooth singing was beautifully complemented by the counterpoint of the backing vocals and a big-sounding, punchy horn section.
Gray continued to record as the 1960s wore on without major success. He also became a stage actor, most notably in the Los Angeles stage production of Hair. However, lightning struck again for Gray in 1973 with his recording of Mentor William's "Drift Away." With a gentle groove and a gospel-influenced chorus, the  song became a big hit in the late spring and reached #5 in the Billboard charts. This is probably his single most-popular song and it still gets wide airplay. It's not hard to understand why.
Though Dobie never scored another major hit again, he kept on performing and recording and his singles occasionally reached the Billboard charts. After "Drift Away," he transitioned into becoming a country singer—an unusual move for an African-American artist at the time. Gray also became a notable songwriter, providing material for country and mainstream artists. He toured overseas as a performer with some success and became (at his own insistence) one of the first performers to appear before an integrated audience in apartheid-era South Africa. Gray kept on working over the next few decades. He died of cancer on December 6, 2011, at the age of 71.
So there you have it. Dobie Gray might not be the most famous or most-remembered name in rock history, but he had two genuinely terrific classic hits in him. For that, he deserves a tribute here on Rock Town Hall. Rest in peace, Dobie, and we'll do our part to make sure you're not forgotten.