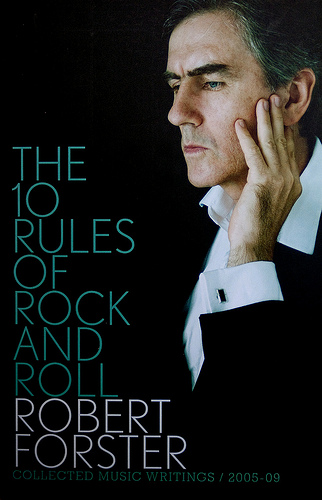 There have been a few performers who started life as music journalists. Not many have gone the other way but Robert Forster, co-founder of the Go-Betweens, has always been a little unorthodox. He has been making a name for himself as very fine writer about music and last month released a collection of reviews, essays, and fiction all about music.
It's called 10 Rules of Rock and Roll.
Rules 10 through 6 have been hashed over these last few days. If you need a refresher, here they are:
10. The three-piece band is the purest form of rock and roll expression.
9. Great bands don't have members making solo albums.
8. Every great artist hides behind his manager.
7. The guitarist who changes guitars on stage after every third number is showing you his guitar collection.
6. No band does anything new on stage after the first 20 minutes.
Following are rules 5 through 1, THE BIG PAYOFF I've promised! Drum roll, please!

5. The band with the most tattoos has the worst songs.
4. Being a rock star is a 24-hour a day job.
3. Great bands tend to look alike.
2. The second to last song on every album is the weakest.
1. Never follow an artist who describes his or her work as dark.
Did you anticipate any of these in posting your own rules? What do you have to say for these rules now?