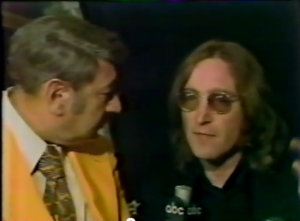 I wonder how many RTHers got the news of the death of John from Howard Cosell on Monday Night Football like I did? Probably not all that many as I know I'm an old-timer here. Shocking to think that it was 33 years ago, the memory is so vivid.
Maybe more amazing than the fact that 33 years have passed since John's murder is that last week marked 12 years since George died.
Anyway, I'm more prompted to write this by having heard a cover of "Merry Xmas (War Is Over)" the other day on the local radio station that plays all holiday music from Thanksgiving through New Years (there must be one of those stations in every city, right?). I'm not sure who the artist was. A search on amazon shows 15+ covers and I'd guess the one I heard was by Sara McLachlan.
I've admitted to being an old-timer but now I'll admit to being an old fart. I'm sorry, I'll allow as how this song maybe, maybe, maybe could be covered but there's no reason for a radio station to play anything other than John & Yoko's original. It's sacrilegious.
Agree? Disagree? Any other songs that should only be performed by the original artist?
If you want it…