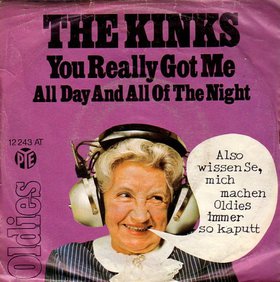 Greetings. At the urging of Chief RTH Labs Liaison Hrrundi V Bakshi, my dedicated staff set about attempting to determine once and for all which of the two classic Kinks tracks — "You Really Got Me" and "All Day and All Of the Night" — is superior. This we attempted to do with the aid of some extremely sophisticated sound analysis machinery, decades of research notes and, of course, the patented, exclusive Stratomatic™ analysis and compositional software, to which only RTH Labs has access.
[audio:https://www.rocktownhall.com/blogs/wp-content/uploads/2012/07/01-You-Really-Got-Me-All-Of-the-Night1.mp3|titles=You Really Got Me All Of the Night]
Through the use of all the technologies at our disposal, we were able to produce a new piece of music, weaving both songs into one contiguous piece, that proved once and for all that — scientifically speaking — the tunes have an identical quotient of every required Rock Element. In layman's terms, they are equally "good." As always, I invite you to listen for yourself. You will find that your notions of categorical and/or overall superiority for your preferred song are quite irrelevant.
Thank you for your time, and your ongoing interest in the rational, quantitative analysis of rock and roll.