This holiday classic deserves a yearly airing. Please be thankful this holiday season.
This post initially appeared 12/23/08.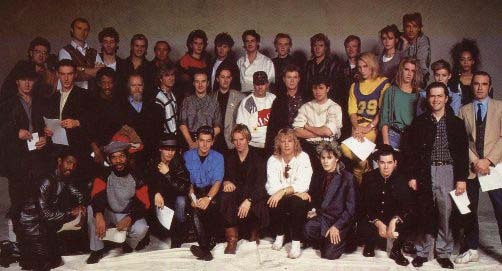 "Is that Orson Welles in the second row?"
Back in January, we celebrated the historic 23rd anniversary of the debut of the greatest supergroup in history, USA For Africa, and their most famous single, We Are The World.
Throughout 2008, Rock Town Hall spent some time talking about influences in rock, from the thieving ways of Buddy Holly to bands with little to no outside influences. USA For Africa was influenced by some precursor groups, such as the Concert For Bangladesh Band and, of course Band Aid, the primarily British/Irish Supergroup which launched the popular single "Do They Know It's Christmas?" in 1984, watching it reach #1 on the UK charts…but fail to reach #1 in America.


One might argue that Band Aid failed to capture American interest because of the relative lack of US artists, the United States represented only by several members of Kool & The Gang and Jody Watley. Another possible reason for Band Aid's failure to land the #1 spot in the US is tied to the relative lack of bringin' it compared to the dazzling show of one-upsmanship that would later be found on "We Are The World" as the members of USA For Africa went all out to be the one to most end hunger by singing. Because of this, world hunger was not ended, which required the formation of USA For Africa the following year.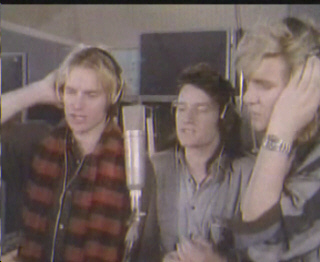 "Did Sting's scarf cause children worldwide to die hungry?"
But we're not here today to analyze who won "Do They Know It's Christmas?" by vocal performance. There's really little debate on that subject, as a young Bono saw an opening here and walked all over the competition with his famous "and tonight thank god it's them, instead of you" line. He laid waste to any possible competition, including a tastefully restrained Paul Young, here playing the lead role that would be filled by Lionel Ritchie in USA For Africa. Emboldened by his easy victory, Bono would go on to make a career out of using his rock presence to end poverty, fight racism and get out of paying taxes for the next 25 years.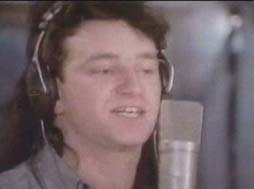 "AND TONIGHT THANK GAWD IT'S THEM INSTEEEAAAD OF YOOOOUUUU"
No, instead, I'd like you to consider who won a different battle within Band Aid's ranks. Please view the video above again and tell us who won "Do They Know It's Christmas" based purely on Look. Did Young and his relatively classy mullet win the day in a room full of high-stakes hair gambits?
"Can't go oooonnnn…"
What about Phil Collins and his choice to go with a low-key sweater vest? The Guy From Spandau Ballet and his silk shirt? Did Boy George's risky hair and giant blue coat simply overwhelm everyone else?
"Do you really want to declare me the winner?"
Please note, however, that no one is allowed to give the cop out answer and just say Bananarama. You have to at least pick one of them and defend your choice. Also, since an official answer was never provided on the original thread, Huey Lewis totally won "We Are The World." It wasn't even close.