This holiday classic deserves a yearly airing. Please be thankful this holiday season.
This post initially appeared 12/23/08.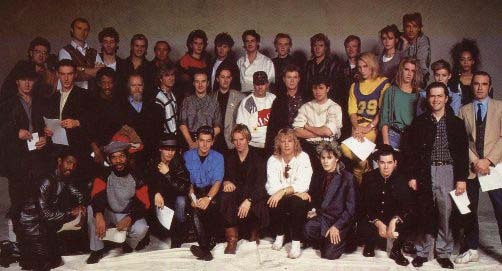 "Is that Orson Welles in the second row?"
Back in January, we celebrated the historic 23rd anniversary of the debut of the greatest supergroup in history, USA For Africa, and their most famous single, We Are The World.
Throughout 2008, Rock Town Hall spent some time talking about influences in rock, from the thieving ways of Buddy Holly to bands with little to no outside influences. USA For Africa was influenced by some precursor groups, such as the Concert For Bangladesh Band and, of course Band Aid, the primarily British/Irish Supergroup which launched the popular single "Do They Know It's Christmas?" in 1984, watching it reach #1 on the UK charts…but fail to reach #1 in America.
Continue reading »