I haven't been around lately. Been busy. Doin' shit. So for those of you don't know, I am the Mikey from the Life Cereal campaign. Here's me then: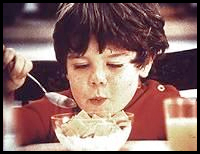 Here's me now: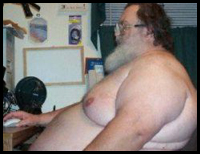 Anyhoo. I got that ad campaign because I'm supposed to be a cynic, right? I'm supposed to hate everything, right?! I swallow my anger, right?!! Wrong dillweeds!! Wrong.
I have the open mind of a newborn babe. That's why I work in my birthday suit.
So let's talk about The Big Bopper.
A cynic might say that The Big Bopper is the luckiest man in rock for if he hadn't died in that crash, no one would remember him.
A cynic might say that in the triumvirate of Chubby Checker–Fats Domino-Big Bopper, the Bopper comes up third no matter how you sort them: talent, fattest, most black…
I might suggest that we celebrate the fact that The Big Bopper wrote that White Lightening song and some song about a bear running that apparently deserve notoriety.
A cynic might respond, WTF are you talking about?
A cynic might say that the only people who truly celebrate The Day The Music Died are Don McLean and whoever inherited the royalties to Chantilly Lace.
But I'm not a cynic.