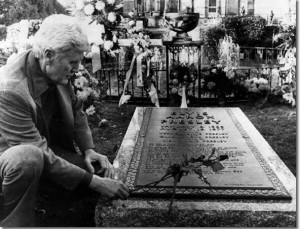 I was not aware that Elvis died 36 years ago today…until a few minutes ago. He did. He's still dead. Someone in USA Today, of all places, wrote a fairly humorous piece on what might have become of Elvis had he only nearly died that August day in 1977. We could do better, I'm sure, but this is not a laughing matter.
What's the closest you got to Elvis? My Mom saw him in concert a couple of years before he died and caught a sweaty Elvis scarf. I'm sure she still has that packed away somewhere.
What do you think Elvis' high and low points (post-1977) might have been had he lived into the 21st century, or even still been alive?
Our culture is always on the lookout for the "Next" whomever or whatever: The Beatles, Bob Dylan, Bruce Springsteen, Michael Jordan… Have we given up on identifying the Next Elvis Presley?
I look forward to your answers, including your answer to the question, "What's your favorite Elvis Presley song?" I think mine is "Suspicious Minds." Or maybe "Don't Be Cruel."