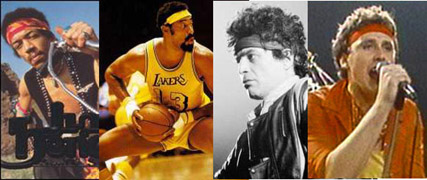 I've grudgingly come to the belief that headbands, although very cool in concept, were among the major fashion flops of all-time. For a brief time in the early '70s, they were promising. Lakers' center Wilt Chamberlain was at the vanguard of the headband movement. With his long sideburns, his Van Dyke, and that muscular 7-foot, 2-inch frame barely covered in a gold and purple uniform, the flexible, terrycloth headband was the coup de grace of the man's Look. Of course, the headband also had a practical use, keeping sweat out of basketball players' eyes.
Dating back to the late-60s, rock 'n roll culture also began flirting with the headband. Hippies, as the cutting-edge of that era's youth culture were then called, tied colorful scarves around their head, for a sort of Native American/pirate Look. Jimi Hendrix was rock' best-known early proponent of the headband. These headbands also served a practical function: keeping the user's long, unkempt hair out of the way when lighting joints and in Hendrix's case, according to rock lore, serving as a delivery device for massive doses of LSD that would enter the pores of his sweaty forehead!

Post-Altamont, the headband failed to take off in rock circles, although Bob Dylan would occasionally wear something that not even he was sure whether it was a loose headband, an outright pirate's bandana, or a Middle Eastern-style headwrap. As the mid-70s dragged on, only rock's first wave of dinosaurs – the types who lined up for Frank Marino and Mahogany Rush tickets – would don the Hendrix-style headband.
Toward the tail end of the New Wave era, headbands reappeared! These were not the flowing headbands of the hippies. Rockers like Dire Straits' Mark Knopfler opted for the flexible terrycloth headbands of early '70s basketball players. He was a functional, pub rock-type guy. I'm sure he felt this Look would result in a bit of a fashion payoff as well, but who was he kidding? Despite his band's massive, brief run of popularity, Knopfler had a face for movie soundtracks.
At the same time, a new breed of headbands entered the rock world. These were wide, brightly monocromatic, silken headbands, that swept back the user's hair. I demand to know what was going on under Alan Vega's wide headband! I suspect these were developed and adopted to cover for a receding hairline.
By the time Heartland Rock stormed the nation in the mid-80s, all hell broke loose. I can't identify a particular image, but I seem to remember the emergence of the Tightly Rolled Bandana Headband. Maybe I'm just remembering guys with tightly rolled bandanas around their tattered Lee jeans. Ugh! Every rock guy with a pirate/cowboy/gypsy fixation came out of the closet. The dream was over.
For what got me thinking about headbands today, click here.