Hello: Meet the Vandals (Part I)
Personnel
Furry Murray, also known as the Murray Man, nicknames courtesy Kevin Luhpotto, because he most probably didn't have the equipment upstairs to come up with anything better (just for the record, at age 8, Kevin introduced me to the whole concept of junking via a visit to a car graveyard where we found unopened flat top cans of Budweiser underneath the seats of an early '60s Ford Falcon. Nice! After that find, we went back to his house where his mother served us pancakes drenched with Ms. Butterworth's syrup. Being a Log Cabin man, I couldn't take that, so I called my mom to pick me up asap. I mention all this to let you know that my picky dick credentials were already formed and firmly established)/age 17/plays varsity baseball/musical equipment: Cortez Strat copy/major influences: the Beach Boys, Bruce Springsteen, and Elvis Costello.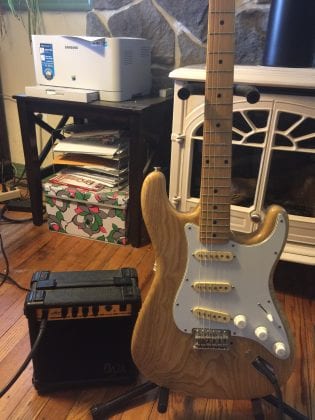 Jo, also known as Jojo, nicknames courtesy me for no specific reasons whatsoever/age 17/plays varsity basketball/known for his good looks and strut/musical equipment: kick drum, kick pedal, snare, floor tom, and a 16-inch crash cymbal, manufacturer unknown/major influences: the Gap Band and Styx.
E. Pluribus Gergely, also known as Weed, sarcastic nickname courtesy Furry Murray (Why? Call me the cautious Paul McCartney of the power trio. I didn't want to waste my entry into the world of ganja via a keg party with a bunch of rednecks in a cornfield. I was looking forward to some arty kind of thing I thought might happen when I got to college)/age 17/ class clown/musical equipment: Fender Duo Sonic guitar and Peavey Classic amplifier/major influences: Beatles, Stones, and thanks to the Murray Man, Elvis Costello.
And let it be said that there would be no Vandals if there was no Elvis Costello.
Allow me to illustrate.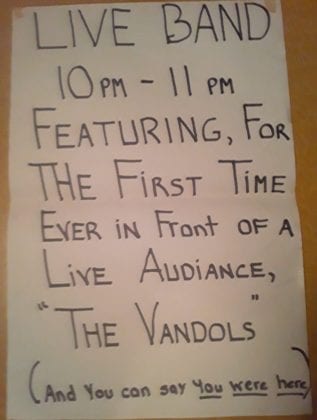 Setting: Junior year at Boiling Spring High School, Boiling Springs PA, spring 1982.
While making a pit stop at my locker where the stench is ungodly (within the locker are uneaten paper bag lunches piled under damp gym towels, books, papers, half assed completed projects for art, home economics, industrial arts, etc.), Murray comes up to me with two albums in his hand: Elvis Costello's My Aim is True and This Year's Model. Very unsettling. First off, Murray's a sports guy. Sports guys don't listen to that stuff. The Cars, Petty, the Greg Kihn Band…that was all fine and dandy, but not Elvis Costello. Elvis Costello was punk rock. Second, Murray doesn't seem to care one whit about showing the albums to me, even though he's surrounded by his sports posse. "Weed, ya gotta listen to …"
No way in hell was that going to happen. On the album covers, Costello looked not unlike one of the Sex Pistols, a group I heard about on late night news, who continually threatened the livelihoods of just about everyone in England. "That's really not for me."
"Hey man, I always listen to the stuff you give me to…"
He had a point. "Alright, alright, just give me the albums. I'll call you later tonight."
Up in my bedroom, around 9 at night or so, after a glass of wine and a chapter of The Case of the Drowning Duck, by Erle Stanley Gardner (my taste for Perry Mason and booze happened around the same time), I give in, flop This Year's Model on my Dual turntable, crank up the volume on my Pioneer receiver, and get walloped by the sound blasting out of my JBLs. (Money well spent from my first job washing dishes at Rillo's.) Jesus Christ Almighty! All it took was about 30 seconds of "No Action" and I was ready to begin my new life as Costello's most devoted apostle.