Originally published January 30, 2007. (I've since acquired an iPod but stand behind these views.)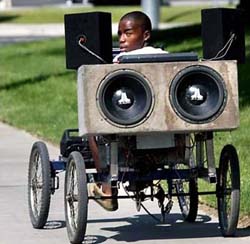 A lot of my friends ask me why I have held out on the iPod revolution. "Hey, Mr. Mod," I hear almost weekly, "why are you still holding out on the iPod revolution?"
They tell me I can carry 85,000 songs with me wherever I go. They tell me I can hit Shuffle and not hear the same song twice for the next 3 years. They tell me the iTunes store has almost everything. They tell me I can just delete the songs I'd have to skip on vinyl or a CD. They tell me about the weird and wonderful combinations of songs that just happen to pop up in random order, say Funkadelic's "Can You Get to That" followed by Glen Campbell's "Galveston" followed by something from that Outkast soundtrack album, which really wasn't that bad.
Truth be told, whenever I hear about one of these fantastic random sequence experiences a friend had, I don't know what to say. It's an I had to be there moment. I had to be in my friend's head. My friend's bopping along in his or her little iShuffle, headphones helping to mainline the grooves, and there's little room for me in the equation. I can't dislodge an earbud from my friend's ear and share in the iGroove, can I?
It used to be, when faced with the faraway eyes of an iProselyte, I'd go on some rant about how I didn't want to be beholden to the Apple Empire, dammit! That never quite cut it. I don't know if it was my delivery or what. Then I tried blaming the earbuds, but someone was bound to point out other headphone alternatives that were much more comfortable, that had better sound quality, that blocked out all surrounding noises. "If there's one thing I can't stand," they might say, "it's hearing the damn pilot tell me we're now flying over Lake Michigan when I've got some Mothers cranking."
I regret the years I tried to convince people of the reasons for my not wanting an iPod based on some socially or technologically relevant grounds. These days I'm up front about it:

Hey man, simply put, headphones aren't my bag.
Headphones make me feel closed in and closed up. No matter how great it can sound mainlining those grooves, there comes a point when I feel guilty, when I feel like a Joy Miser. I want to share my joy. I'm tempted to shove it down people's throats. Think of potheads and cokeheads. Potheads want to pass it on. So long as he doesn't bogart it, they'd be happy to pass it to The Man himself, certain that it would loosen the 4×4 impaled in his ass. Paranoid cokeheads, meanwhile, hunch over their lines and "bumps," careful that what doesn't make it up the rolled up bill is wiped up with their index finger for a little taster on the gums.
Headphones have their practical use, of course, just like the pharmaceutical coke a doctor gave me in high school before shoving my broken nose back into place had its use. It's the recreational use of headphones that I liken to the antisocial impulses of coke culture.
The early rap dudes had the right idea walking around town with their ghetto blasters cranked to the high heavens. Maybe not the right idea but a positive impulse. They wanted to pass it on. They thought they could change the world, not just horde their private stash.