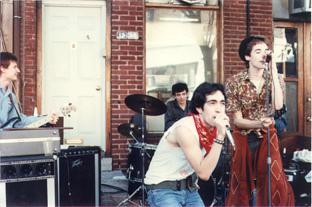 Rodney Anonymous checks in with the following defense of KISS.
5 Reasons Why They Rule and Their Critics Eat Stool
1) Gene Simmons has slept with over 5000 women (Terry Gross included). OK, before you launch into your "So what? [Insert name of under appreciated angst-ridden indeed artist here] made great records with intelligent lyrics and used augmented 9th chords" rant, just take a minute to remember why you picked up a guitar in the first place: Here kitty, kitty, kitty! Do you think Alex Chilton could've nailed Cher back when she was worth bragging about nailing? And I'm even gonna give Simmons bonus points for being a Jew!
2) Knights In Satan's Service. Yeah, I know that KISS really wasn't an acronym for that. But hey, AC/DC didn't stand for "Antichrist/Devil Child" and REM wasn't shorthand for "Rectally Engaged Mumblefest". The point is that YOUR PARENTS (and nearly every Baptist youth pastor) believed that's what KISS stood for. They went to bed each night with one eye open out of fear that some track on Love Gun would incite you to patricide. What did mommy and daddy think when you started listening to Belle and Sebastian? "Hmmm…how pleasant. I think we'll do the den in beige."
3) "She's a dancer, a romancer. She's a Capricorn and I'm a Cancer." I am, without dispute, America's greatest living lyricist, and not even I could've thought of a line that clever. By singling out a specific zodiac sign, KISS managed to convince approximately 1/12 of the world's female population that they were singing to them. (See reason #1.)
4) KISS Meets the Phantom. Not only did KISS meet the Phantom, they kicked his ass and the asses of their evil robotic twins. This single act would remain an unparalleled moment in Rock 'n' Roll for almost 20 years, until the 1990 Lifetime Network premier of Jesus and Mary Chain Save Christmas.
5) The guys who worked at the gas station liked 'em. Sure those guys might not have taken the same college prep courses you did, but they didn't shell out $12.98 for a copy of Lou Reed's Metal Machine Music either.
Thank you. We will now consider this matter closed. Don't make me kick your asses.