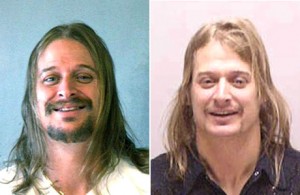 On January 17, 1971. Robert James Ritchie was dragged from his mother's womb kicking and screaming into this world. Little did he loving parents know that this was the same technique their son would employ to forge a career in music for himself. The self styled "rock-rapper" would not achieve his desire until the release of the 1998 album Devil Without a Cause, released by Atlantic Records, which sold a whopping 11 million albums, apparently. It was followed by a slightly less successful album: History of Rock, in 2000, which featured the hit single "American Badass."
Now let me make one thing perfectly clear. I am no fan of raining on the parade of a dude or dudette that is making a living out of "Living The Dream"; good luck to them. And even if I had the means to go back in time and undo such atrocities I don't think I would because at the end of the day it's only rock 'n roll, and I like it. But there is a but.
The unholy fusion of "Cock-Rock" with "Gangsta-Rap" produces a sound that I can only be likened to listening to a migraine headache. I only say this because I am convinced that Kid Rock takes himself seriously, which on the face of it seems impossible, but nevertheless I fear it to be true. The worst crime that Kid Rock is guilty of is the crime of fraud: he is a teeny-bopper in rocker's clothing no matter how good his credentials are and no matter how many truly hard rockin' amigos he has. So here's my question: Why do people like "The Kid" exist? Are they genuine musicians trying to carve their way in the world or are they walkin' the walk and talkin' the talk to bag the cash? Whatever the popular vote favors I accept, but with no prejudice at all. Guy's like Kid Rock leave a bad taste in my mouth. Maybe I need to be educated in this musical area.
So I say that Kid Rock is guilty of "sucking up to the man."
Evidence for the prosecution follows the jump…
All those in favour say, "Victory or Death." All those against say, "No, no please don't hurt me, no!"