Last night, following a very long day of business and pleasure, I got home around 10:15 pm, checked e-mails, confirmed the losing score of the Phillies' game had not been overturned, and then flipped channels for a spell until I could barely keep awake. Then, just as I was about to call it a day, I saw that Ken Russell's Tommy was about to come on! This is one of those train-wreck movies I can't help but watch whenever it comes on. I was both fascinated and repelled by it when I saw it in the theaters as a kid, and my reactions to the movie have not changed since then on repeated small-screen viewing. I knew from the start that I would pay for staying up an additional hour today—my brain was already starting to throb from overuse—but I rationalized that it had been some time since I saw the opening scenes, with the boy actor as Tommy. Beside, I told myself, it would be good for Rock Town Hall.

I ended up watching through the scenes with the boy and the first, highly influential scene with Roger Daltrey as the deaf, dumb, and blind adults Tommy being taken by his mom, Ann-Margret, to the Marilyn Monroe-worshipping church led by Blooz Minister Eric Clapton. I consider this film highly inspirational on a personal level because Daltrey exemplified what would become one of my most cherished bits of comedy at home: my love for and impersonation of actors acting blind in movies. No offense to our blind Townspeople checking in, but Hollywood really gave you the shaft when it came to a lousy repertoire of approaches to acting blind.

Despite having the same overall impressions, such as my total recall of the deep response I had as a boy to my first taste of Oliver Reed as a symbol of manhood, the passing of time allowed me new observations. For instance, the boy who plays the young Tommy might well have been a young Andy Richter.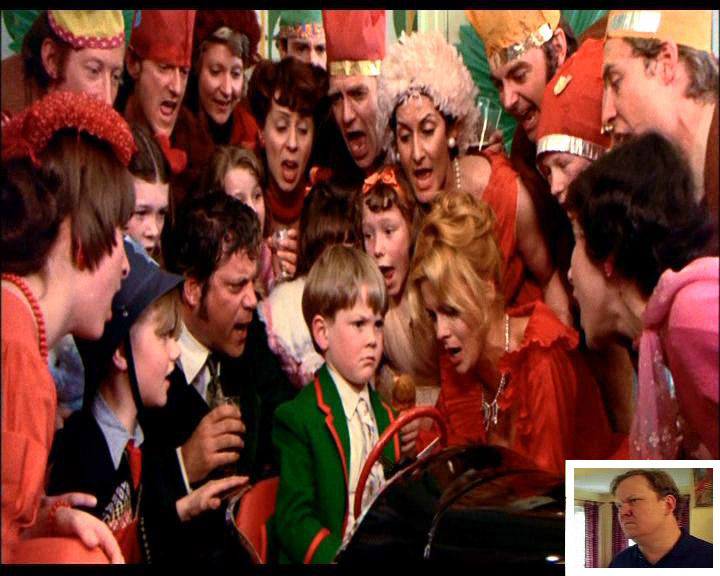 A young Andy Richter (see inset) as Tommy?
This morning I remembered Townsman Oats writing something on Tommy, which I wrongly assumed, after checking it and considering running it as a feature, was positive. There are as many solid arguments for why Tommy, the movie, sucks and may be brought to trial on Rock Crimes, but in my opinion the only honest answer to the question in the title of this post is d) All of the above.
It can be argued that the movie is "good," for instance, in terms of its artistically nauseating visuals (seemingly the only thing Ken Russell really cares about). I don't know what Russell was aiming for in his '70s films, but it seems to me he was taken by the Look of Stanley Kubrick films like 2001 Space Odyssey and A Clockwork Orange and thought he could match up that visual style with a subtle sense of storytelling informed by the works of Russ Meyer.
The film also can be argued as "good" in the sense that the source material, the Tommy album, really isn't that good. Imagine how much worse the film could have been without the visuals of Russell and the archetypal bad marriage dynamic of Oliver Reed and Ann-Margret? Imagine how much worse the film could have been had it wasted the talents of, say, Peter Sellers, in the Tommy role? Instead, the movie is just good enough to keep your attention and keep you laughing.

And the laughter gets to all the obvious arguments about why the movie is definitely both "good-bad" and plain old bad. If you're brave enough to step forward and take a shot at this, why don't you cite one example each from the film that satisfy the criteria of the following responses to this film that any honest viewer is likely to have:
Scene in which the movie can be considered "good":
Scene in which the movie can be considered "good-bad":
Scene in which the movie is undeniably "bad":
I look forward to your well-considered responses.