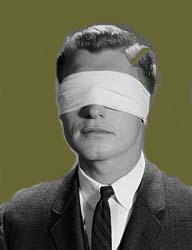 I can hear clearly now
On this page, Townspeople have offered audio tracks they love by Sparks. It is hoped that fair-balanced listening to these tracks – devoid of bias-inducing visuals – will help Mr. Moderator and his Sparks-mystified colleagues reach a better understanding of this band's music.
Shawnkilroy offers two numbers:
Sparks, "This Town Ain't Big Enough for the Both of Us"
The Great 48 provides the following:
Sparks, "When Do I Get to Sing 'My Way'?"
The Great One writes:
Here's one, the 1994 single "When Do I Get To Sing 'My Way'?" — in its favor, it's quite possibly the most serious song they've ever done, and features Russell's lower register exclusively. On the other hand, it's in a musical style that I am almost positive you're going to absolutely despise.

Why I like this song: absolutely top-notch chorus, well-placed bridge, excellent lyrics concerning a subject most rockers refuse to touch (what do you do when your 15 minutes are up?), and, just as important, extremely fun to dance to.