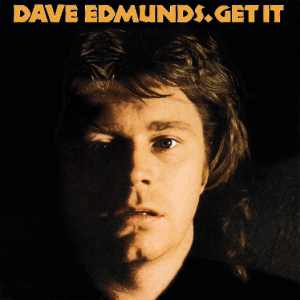 When the desultory video performance of "Girls Talk" was running on this site last week, some people mentioned that they were unfamiliar with Dave Edmunds' work and would appreciate a selection of Edmunds tracks. I offered my services, since I have all of the Rockpile-era Edmunds albums in versions transferred from my old LPs and Mr. Mod was busy with moderating.
Right before this era, Edmunds was focusing on letter-perfect recreations of earlier styles — Phil Spector, Sun Sessions, Chuck Berry, etc. – on the album Subtle As A Flying Mallet. But Edmunds had produced the last Brinsley Schwarz album, and he started working with Nick Lowe again on his next album Get It. The first 8 tracks on this selection are from that album.
The opening tack is the Bob Seger nugget "Get Out Of Denver", and the album is a mix of old and new songs. Nick Lowe fans will recognize "I Knew the Bride (When She Used to Rock 'n Roll", but the record also features two fine Lowe-Edmunds originals – "Here Comes the Weekend" and the lovely "Little Darlin'". Edmunds was always more of a traditionalist than Lowe (Graham Parker's "Back To Schooldays" gets a nice rockabilly treatment here), but "Little Darlin'" shows the "pure pop" side of the Edmunds-Lowe collaboration.
Also from Get It:
"Worn out Suits, Brand New Pockets"
"Ju Ju Man"
"Git It"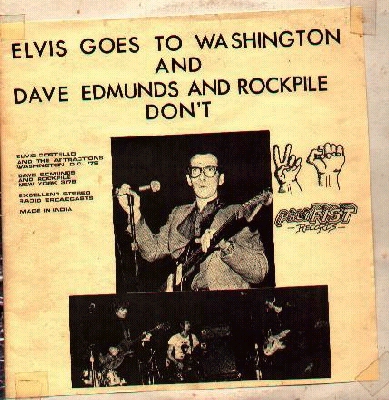 Cuts 9-15 come from Tracks on Wax 4, the first real Rockpile album. Some of the standout tracks are examples of the slamming blues-rock style that was Rockpile's bread and butter live ("Trouble Boys" and "Readers' Wives"), but these are balanced with lighter countryish material and more Lowely pop ("Deborah").
Also from Tracks on Wax 4:
"Never Been in Love"
"What Looks Best on You"
"A1 on the Jukebox"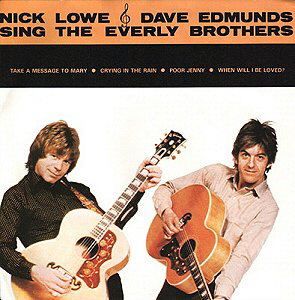 Repeat When Necessary (tracks 16-22) was recorded simultaneously with Labour of Lust, and it's obvious that this was really Rockpile's moment. I can't tell you how many times I must have played Repeat's first side (16-20), taking the title literally. Forget about that video; "Girls Talk" is as perfect an album opener as "Cruel To Be Kind". I like the fact that two albums came out of this period, though both of them have some filler. The obvious thing to say is that they could have made one great album instead of two uneven ones. It certainly would have been better than the somewhat disappointing Rockpile album, Seconds of Pleasure.
Also from Repeat When Necessary:
"Crawling from the Wreckage"
"Creature from the Black Lagoon"
"Sweet Little Lisa"
"Dynamite"
"Queen of Hearts"
"Take Me for a Little While"
The band was apparently falling apart during the recording of the last album represented here, Twangin' (tracks 23-25). John Hiatt's "Something Happens" sounds like a Nick Lowe production, but overall the quality is really beginning to drop off. I think Edmunds was the first to cover the too-often covered John Fogerty song, "Almost Saturday Night", and it was a minor hit.
Also from Twangin':
"(I'm Gonna Start) Living Again If It Kills Me"
After this stretch of albums Edmunds went into decline. He let Jeff Lynne produce a couple of albums, and it got him a hit, but it also got him into using synthesizers, and he kind of went off the deep end. He lent the throbbing synth technique he learned from Lynne to the Fabulous T-Birds, and they had an even bigger hit with "Tuff Enuff". They were never the same afterwards either. Edmunds' moment was over as the '80s set in.
As I mentioned before, these are vinyl transfers. I always add some bass when listening to the mp3s, so they sound more like they did on my old receiver with the Loudness switch turned on. Your EQ preference may vary.
[Mr. Moderator's note: I can't thank BigSteve enough for his contribution and excellent write up. These tracks will be up here for Townspeople's enjoyment for the next week. After that, for obvious reasons, they will need to scoot away. Enjoy while the gettin's good, and really, how about a standing ovation for a Townsman or two {the other being Matt, who's provided us with the opportunity to deal with The Beach Boys Love You}.]