The Ducks' other songwriter, bassist Nick Garvey, occasionally showed an affinity for a much poppier style. Here's "Please Please Please."
And the later version of the band added keyboardist Andy McMasters, who followed the same path with a song that was later recorded by The Searchers during their late '70s comeback, "Love's Melody."
Here we can see one branch of pub rock evolving towards power pop, but you can also see that this style really doesn't fit with the rest of the band's material. After the Ducks broke up, Garvey and McMasters formed the The Motors.
[Actually here's a music nerd footnote cribbed from Wikipedia. There was a brief detour before the Motors started up. "Having left Ducks Deluxe in early 1975, Garvey formed a band called The Snakes with Slaughter and vocalist Robert Gotobed, who would later form the punk band, Wire."]
I remember The Motors as having a very polished, altogether more mainstream sound:
Bram Tchaikovsky, whose later hit "Girl of My Dreams" was very much in this mold, was also in The Motors for a bit, but I didn't know that then. I just knew that in 1977 this was not really what I wanted to hear, even though hearing this song now I can see that it's not all that different from other stuff I did like. "Dancing the Night Away" was covered by Cheap Trick on their 1983 album Next Position Please, so at least some people in America got it. It was a minor hit in the UK.
Because I kind of wrote them off, I missed The Motors' evolution into a more modern, and much more successful, new wave band. McMasters started adding synths to their sound, and they scored a major British it with "Airport."
I still think The Motors suffered from the lack of a distinctive vocalist, but this combination of hard rock with pop and electronics really worked for them for a bit. The nearest American analogue would be (surprise) The Cars. Individual albums are available on CD, but they also have a good compilation called Airport: The Motors' Greatest Hits.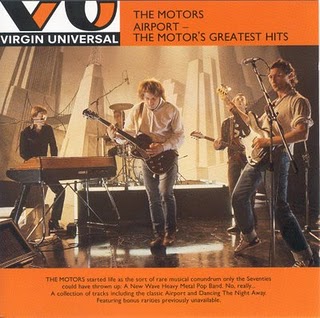 The Motors