Martin Belmont, of course, went on to form The Rumour with a bunch of other pub rock veterans. As he indicates in his interview, their band predated the association with Graham Parker, but by deciding to focus on his songs and his persona they avoided the some of the identity problems that plagued Ducks Deluxe. I won't retell the story of their artistic success and relative commercial failure. I will point out that their sound wasn't all that different from pub rock, but it was played with a fierce intensity, and let's face it a lot more skill and professionalism, than early '70s pub rock, which tended to be a bit more laid back. This can be heard on the three fine albums The Rumour made without GP. From the first one, Max, here's their version of Martin's song that I YouTubed earlier in this post:
Very nice (produced, like GP's Heat Treatment and the first Motors album, by Mutt Lange, btw). Using the reggae rhythm like that in 1977 was very prophetic, and it would become much more common later (see the early '80s Langer/Winstanley productions with Madness, for example), but the Rumour rhythm section was really good at it. Here they are from that same album doing Nick Lowe's "Mess with Love" in pretty much a straight pub rock arrangement:
I think this sounds great, and thought so at the time, but it went nowhere with the broader public. Once again, several singers and songwriters, good material, but not a clear identity the masses could latch onto. The Rumour took a sharp left turn on their second album Frogs, Sprouts, Clogs, and Krauts:
More synthesizers and an almost Bowie-in-Berlin kind of sensibility. I'd speculate that going Euro was keyboardist Bob Andrews' idea, although there are songs in the same vein by other band members too. I *love* this album, but it went also nowhere. The public, those who heard it anyway, were probably just confused by it. It was maybe an attempt to forge a new identity, and it's successful on that level, but no one expected this from The Rumour, and it was perhaps too premature to be successfully opportunistic. Bob Andrews would leave the band soon afterwards (and eventually move to New Orleans, where for some years now he has been a piano-man-about-town, reverting to his R&B roots), and The Rumour would make one more pubrockish album, the paisley-covered one discussed in our Belmont interview, before disbanding.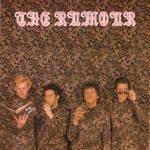 Paisley Overground (it's not blurry, you must be high)
[You probably know that Rumour drummer Steve Goulding played on Elvis Costello's "Watching the Detectives," and you possibly also know that he has been a member of The Mekons since the mid-'80s, but here's another music nerd note cribbed from Wikipedia. "With the Associates he had a UK #9 hit single with "Party Fears Two". He also played the drums on the hit single "Let's Go to Bed" by The Cure.]
Next, my favorite part of the story…after the jump!