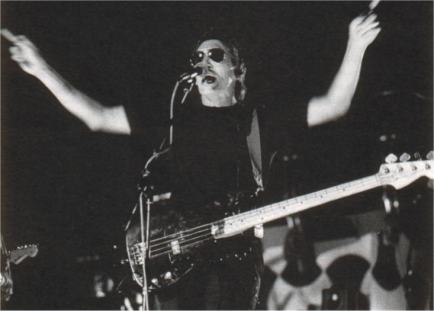 When I was in high school, my favorite band was Pink Floyd. Why? Teen angst + heavy classic-rock exposure + an interest in languid guitar solos, I guess. When I hit college, I kicked the habit hard. I sold all my Floyd to used-CD shacks on South Street. The t-shirts conveniently disappeared.
I still can't bring myself to own any Pink Floyd, but lately I find myself thinking fondly about their music. The catalyst for this is twofold. First, there was their surprisingly vital Live8 performance. Then, there is YouTube, which of course contains a dizzying amount of Floyd ephemera. It is thanks to YouTube that I am constantly reminded of something very, very important.

Roger Waters' music blows.
It's always been fairly de rigueur to lambaste the post-Waters Floyd as a tired nostalgia act and, yeah, I'm not about to beg for a critical upgrade of A Momentary Lapse of Reason either. But whereas David Gilmour at least had a grasp on both song structure and melodies that could make the most of his mellow but tonally assured singing, Waters used his solo career to highlight his didactic, hectoring lyrics with threadbare tunes and shrill vocals. Plus, he'd bring in a truckload of shit-hot session players whose gussying efforts only further highlighted how very weak these songs were. Waters was committing Rock Crimes.
All this might seem so very self-evident, so very "so fucking what." I've felt the same all these years, but happening upon these long-forgotten Roger Waters videos, the train-wreck-enthusiast in me cannot help but watch.
To be even more completely unfair just to belabor my point, here is David Gilmour, performing a mostly solo acoustic version of an old Pink Floyd song. (If you're not in the mood for extended acoustic noodling, fast-forward to 5:18.) Nevertheless, I maintain that this performance contains a surprising amount of feeling, humility and skill, and I've yet to find anything in Waters' YouTube oeuvre that even begins to compare.