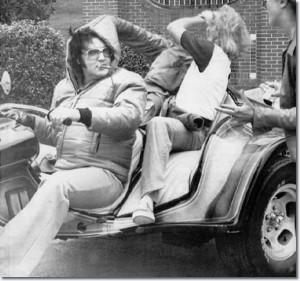 Rock museums. Just the idea of them is questionable. I mean, I'm resigned to rock's total acceptance by mainstream culture and acknowledge the plus sides of that as well as the downsides. But even if there is a significant chunk of rock's history that is now well and truly in the distant past (beyond the memories of most people alive today), rock museums seem to me, just, un-rock. I even approved when the Sex Pistols said fuckyouverymuch to the RNR HOF's induction ceremony.
That didn't stop me this year from going on a pilgrimage to Memphis, the Mississippi Delta, and New Orleans, where I paid entrance fees to Halls of Culture to see (and hear) what until recently would have been considered mass culture ephemera by the custodians of such places. Really, I just wanted to go to 706 Union Avenue. That alone would have had meaning for me as a historical place, and it was indeed the highlight of my trip.
I will blurb below about the places I went (with Mrs. Kid), but I'm more interested in your feelings, ideas, and experiences about Rock Museums.
Sun Studios (Memphis, TN) – It is a goldmine for someone, but I didn't mind the commercial aspect at all. They had exhibits in the old boarding house upstairs showing Phillips' original recording gear and a presentation including loudly played prime Sun cuts. They have Marion Kiesker's office as it was, and paid her huge props as an unsung figure in the creation of rock, but the drab studio itself was the best bit. It looks like it has never been changed since it opened. The ugly soundproofing tiles on the wall are the same ones seen in the iconic Million Dollar Quartet photo. They have the original vocal mike set up where Elvis, Johnny, and Wolf stood, the original piano Jerry Lee played. If I were any younger, I would have really felt something, but even in my jaded old age I felt some kind of tremor as they dimmed the lights and played "That's All Right."
Graceland (Memphis, TN) – We went because why not? Another highlight. The house and grounds were tremendously more modest than I expected. The décor did not offend me at all – it just reminded me of the '70s. The many museum exhibits across the road were hit and miss. I'm not a car nerd, but I loved seeing Elvis's impressive collection, and I also enjoyed boarding the Lisa Marie Convair 880 jet parked outside. Because I allowed for the excessive commercialization upfront, I was able to screen out the vulgarity of the sheer number of gift shops (I bought exactly one postcard) and simply enjoy soaking up the level of Elvisness that I was comfortable with.
Memphis Rock and Soul Museum (Memphis, TN) – Slate me for going here instead of the Stax Museum, but I am much more of a rockabilly and blues hound than a soul brother. I hoped to find some more juice on the hillbilly and R&B aspects of the Memphis scene beyond just the Sun stable, and found a little bit. The museum was actually quite well done and probably a good overview of all the Memphis musics, but after Sun, Graceland, and three and half hours at the best museum in town (the National Civil Rights Museum), I was all exhibited out and ready to conclude that Rock Museums are indeed a waste of time. How many old stage suits, harmonicas and sheet music can you look at?
Delta Blues Museum (Clarksdale, MS) – This modest little exhibit was a let-down in terms of content. There is a rival museum in town that may be better, according to some reviews. I did appreciate very much the way they salvaged and have exhibited the walls of a plantation shack that Muddy Waters lived in nearby when he was a child. There was some interesting stuff on Charley Patton and a plaque from Led Zeppelin marking their financial support of the museum, but I was pretty much done after about 25 minutes. Heading into the gift shop at the end I was shocked to see the name of the headliner on a poster advertising an annual festival that was to begin the next day in sleepy little broken-down Clarksdale: Robert Plant. As we left and saw them setting up banquet tables and a small stage on the lawn outside, I kicked myself for not scheduling our stop one day later.
Preservation Hall (New Orleans, LA ) – This was another highlight, despite the fact that I would rarely sit down and listen to trad jazz on my own. That doesn't mean I don't appreciate it when I hear it, and to hear it played in this place where it has been quite literally preserved every night for the last 50 years was my idea of a music museum. There is no set Preservation Hall Jazz Band – there is a roster of players and bands that serve in that capacity each night and each week. All play the traditional shit in the traditional way in the traditional place, and they rock the motherfucking house. I don't care if everyone in the room was a tourist, I loved the opportunity to hear music history played live instead of seeing it in a glass case on the wall.  I also enjoyed it immensely when some dumbass requested "Take Five" and the band all snorted derisively, muttering "'Take Five' doesn't swing." Also, for some reason I assumed Preservation Hall was some formal concert hall of impressive size, but I was thrilled to see that it was a little hole in the wall as shitty as any punk rock club.
Unfortunately, my conclusion that musical museums might be better when they are based on live performances instead of two-dimensional displays could not work for rock. I never want to see a Preservation Hall Rock Band playing some arbitrary collection of rock "standards". Oh my God, I might get sick just thinking about it.
What do you think about Rock Museums?