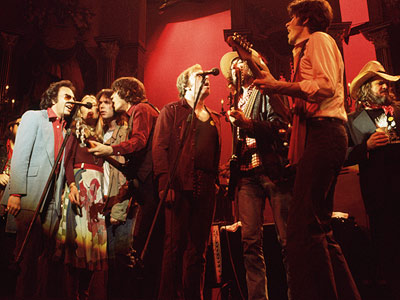 Not only did The Band and Martin Scorcese manage to squeeze at least 4 dozen troops on stage to join Bob Dylan for the singing of "I Shall Be Released," the singers are strategically placed around the mics in a way that speaks to the greater good. All musicians in this performance are equally not-as-prominent as Dylan, a skill that the E Street Band perfected in support of The Boss once The Big Man accepted his demotion.

At the 1:05 mark, watch how Robbie Robertson, the undisputed leader of The Band and Scorcese's partner in crime in this cinematic send-off, sings his heart out from nearly 3 feet away from Dylan's mic. Robbie must have known that his voice wouldn't be picked up, but his effort at being heard would lift Dylan's message. Very Iwo Jima-esque.
At the 1:20 mark, check out Ronnie Hawkins merely bopping along, nowhere near a mic, with a beer in his hand. This would be a key frame for the rapidly ascending E Street Band. As reported in a 1986 supplement to Backstreets, Bruce, then in the middle of his "next Dylan"/Time/Newsweek media blitz, watched this film in a private screening with His band. "Can you freeze that frame!" he yelled up to the projectionist, "Clarence," he exhorted, "that's the kind of support I need when you're not blowin' your horn! If I don't get that level of support we're never gonna rise above!"
The proto-Iwo Jima alignment begins to falter when Richard Manuel takes a verse from his piano stool. Taking note of this, The Boss even found a way to work his own pianist, the late Roy Bittan into a touching show of strength and unity.
Freeze this clip at the 2:33 mark for yet another example of the certainty of The Boss' coming Rock 'n Roll Iwo Jima. All coked-up up eyes but Van Morrison's are on Dylan as he's about to reclaim the lead vocal. (Van probably wanted to make sure the head on his Guiness was being prepared properly.) Bassist Rick Danko is hunched over to provide ballast. Any day, now/Any way, now… Neil Young is so dazzled by the thought of possibly achieving rock's first Iwo Jima that you know he's the wide-eyed wonder who's finally going to get it between the eyes in Act 3.
Let the clip roll again and see how Joni Mitchell, unfazed by the heroics of this band of brothers, sets the stage for The Boss' own Eula Goodnight, a strong-willed, strawberry blond, shotgun-capable woman in the guise of Patti Scialfa.
It's likely that I've missed some key moments in the development of Bruce Springsteen and His E Street Band's Rock 'n Roll Iwo Jima, but I hope this helps establish this key moment in rock and enables other bands to build from their work. Please use the Comments to this thread to flesh out any gaps in my research. Thank you.