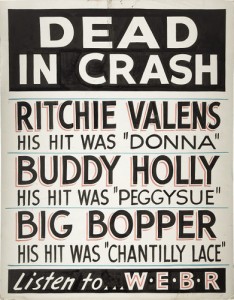 [audio:https://www.rocktownhall.com/blogs/wp-content/uploads/2011/02/17-It-Doesnt-Matter-Anymore.mp3|titles=Buddy Holly, "It Doesn't Matter Anymore"]
For those of you who may have lost track of the rock calendar today is The Day the Music Died, a rock-oliday in which we commemorate and celebrate the legacies of Buddy Holly, Ritchie Valens, and especially the Big Bopper.

2011 marks the 52nd—anniversary seems like the wrong word, but you know what I mean—of rock 'n roll's loss.
Rock Town Hall encourages you to take a few minutes of reflection on this occasion; to spin some Buddy, some Ritchie, and some Bopper; and to smash a copy of Don McLean's "American Pie." You can revisit our historic 2009 celebration of the 50th anniversary of their death here. Thank you.