RTH: Did you have your own musical aspirations before becoming an engineer, or was your first goal becoming part of the production process? I know later in your career you recorded albums as part of your own band.
RB: No, I went straight into engineering, although I did play keyboards and dabbled in other instruments. I moved into production mainly because I was so opinionated, and couldn't stop myself from telling people what I thought they should be doing! I had a brief (one single) spell as a solo artist under the name of The Convertibles. I later was part of a band, The Blanket Of Secrecy. We made two albums, though only the first was released, in the States.

RTH: What records from your youth, if any, stayed in your mind as you started recording bands professionally? Was there a "sound" or production approach that you initially hoped to follow?
RB: I was in love with all things Tamla, especially Marvin Gaye. The Beatles, Stones, Bowie, Hendrix, et al. I also really got into bands like Zeppelin and Pink Floyd, King Crimson, Family…! There was a lot of prog rock going on. I always think it's healthy to have a varied taste, which I still do. I have a sound in my head, it's an amalgamation of everything I love to hear buried in my subconscious. My inspiration was Tony Visconti, Ken Scott, and George Chkiantz.
RTH: Did you record any bands prior to your connection to the Stiff and Rockpile-related artists?
RB: I recorded dozens of other bands and artists as the house engineer, some of them are listed on my MySpace site…
RTH: Do you have roots in the Pub Rock scene?
RB: I certainly didn't have roots in the pub rock scene. In fact I hated most of it, apart from Nick's stuff and Elvis, and some of the Dave Edmunds' stuff.
RTH: How did you become associated with the Stiff/Rockpile crowd?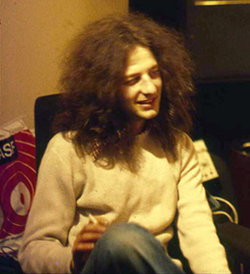 Bechirian, in a blatant appeal to my hippy sympathies!
RB: I was doing a lot of mixing work for Stiff, in fact my first production came in the form of "Lucky Number" by Lene Lovich. Nick was looking for an engineer and studio base, and he came and did a few things to see how we worked together. He was a pub rocker, I was a hippy! Go figure….
RTH: Initially, what was your working relationship on the albums you engineered for Lowe? Did he primarily lean on you for technical expertise, arrangement ideas, mixing, keeping order?
RB: Initially it was purely looking after business so he could have fun! I recorded and mixed everything, and I soon got involved with production ideas and direction.

RTH: How did you assess the sounds coming from The Attractions when you first started working with them? Did they provide any obvious strengths or challenges for an engineer?
RB: Pete and Bruce were a pretty tight rhythm section.
RTH: How about Costello's voice?
RB: He is very loud, and because of the moisture vapor coming from him, I only ever used an original Beyer Soundstar for his vocals. (I still have the mic.)
RTH: Were there obvious differences in studio experience between the rhythm section of Bruce and Pete Thomas and Costello and Steve Nieve?
RB: Pete and Bruce had made records before. It was Steve's first time!