RTH: From which planet were those Lene Lovich recordings you produced beamed in? I always thought your recordings with her epitomized what had become known as New Wave, specifically, rather than Punk Rock or any other term that was thrown around to describe this period of rock 'n roll rebirth. How much of a role did you have in creating the sound for those records, or was that pretty much what she and her collaborator, Les Chappell, had in mind?
RB: Les had a lot of instrumental ideas, Lene had a lot of abstract ideas…some were interesting. It was my job to make sense of what they were after, and put it into a box ordinary people could open up and understand. We use to work, just the three of us, for long hours, late into the night, with nothing but coffee and cigarettes keeping us going! I loved that first album, some great ideas in there. It's a real pity she wasn't more successful… I have fond memories of that period.
The Jam asked me to work on two successive albums with them, but my manager told them no!
RTH: What took Squeeze so long to record with you and Costello? Their earlier records, despite some fantastic songs, have all the sonic appeal of damp, musty cardboard. You guys brought drummer Gilson Lavis to the fore on the rocking songs and let the band breathe on the poppier numbers. Was the recording of that album anywhere near as pleasurable as it is to listen to?
RB: That album was great fun to make, and the band were great to work with. It was also fun between me and Elvis. We would come up with ideas and just push them into doing what we wanted! Squeeze were used to working for months on their albums, and I wanted to work fast, and spontaneously on this one. We had one run-through with song choices with the band, in a rehearsal studio, then straight into the studio! I'm not sure they trusted us at first, but then Glenn [Tilbrook] became really excited about the whole thing. Gilson just smashed those drums, I loved recording him.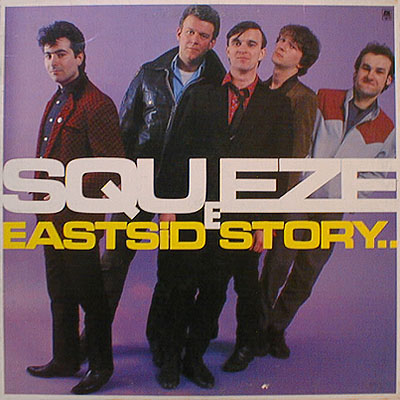 Even Mickey Likes It!
RTH: Were you involved in selecting "Tempted" from East Side Story as the single? Did the selection of that single, with Paul Carrack singing lead, bother Tilbrook, in particular, and Chris Difford?
RB: From the moment Paul sang, it was obvious it was the hit. I had tried that song in about 4 other styles with Glenn, none of them was quite working out. Then one morning, I arrived at the studio to find Paul trying some ideas out at the Hammond. He suggested an approach that might work, he stepped up to the mic, and the rest is history! I don't remember any issue because of that.