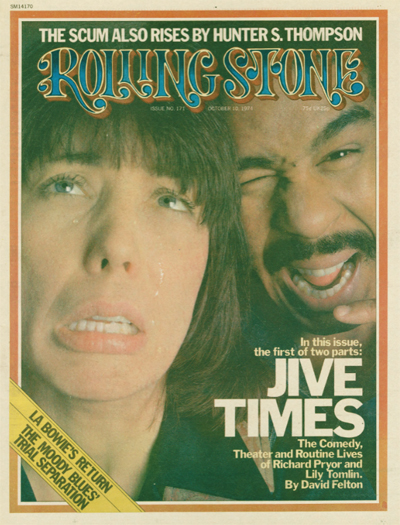 Last night I attended one of those silent-auction-school-fundraiser things. You know, one of those things where you can bid on a basket of scented shit while eating a Costco cookie all the while bemoaning the fact that you're missing Ramon Troncoso pitch four shutout innings in what is the first glimpse of light this season in the Dodger's bullpen.
In the past we've come home with some decent deals on summer camps for the boys, baskets of scented shit and "principal for a day" certificates. But last night I hit the relative jackpot. I was the only bidder on a "digital library" called Rolling Stone: Cover to Cover. It comes with a proprietary browsing/reading program and three discs of content that feature every page of every issue of Rolling Stone magazine from launch thru May 2007. I picked this beauty up for $20.
Chock full o' stuff like:

The sneak preview of The Magical Mystery Tour tele-movie. If successful "…we'll use the same techniques to make the Beatles' next cinema film-and more television shows", says Paul.
A report that The Beatles faces can be seen in the cover of Dylan's John Wesley Harding. Did you know that? I didn't. I did a quick search and found a few references and supposed "proof" in this enlarged section of the image:
We report. You…
And "Musicians Free Classified" ads from always-awake, antiwar bass players like Gary Westhoff-

The first search I did was "Syd Barrett" and came up with some qualified praise for Piper but not so much for Barrett's solo efforts. According to the October '74 record review section, The Madcap Laughs and Barrett were not released in the US until 1974, some 3-4 years after the fact and were only available as a double album.
I realize hindsight is 20-20 and taste is subjective and so on but I was really taken aback by the level of disdain reviewer Ken Emerson had for these albums. I know that I'm defensive about these personally treasured recordings but still:
Fans of Pink Floyd should be warned that The Madcap Laughs/Barrett may not be their cup of tea. In fact, this double album may be non one's.

The first record in particular is almost unlistenable. Unprofessional with a vengeance, Madcap is slovenly ineptitude pretending to be weird and far out. Its only value may be as an object lesson in the detrimental effects of too much dope.
His opinion of Barrett is only slightly higher:
Although more pleasant…Barrett is still pretty small beer. If you've been dying to learn whatever happened to Syd Barrett, these records will fill you in. But you'll probably find you didn't really want to know.
This review, given the time and place, raises a myriad of questions, not the least of which is "What is small beer?".
Given the huge popularity of the post Dark Side Floyd, and the belated "after thought" release of the Barrett albums I can see how someone would have such disdain for them. But is there something else going on here?
My gut tells me that Barrett's popularity didn't hit a critical mass until the early 80s after which time he took on a mythical status. Name-checked and imitated to this day by hipster musicians and ironically peaking perhaps with Rolling Stone's own loving and effervescing eulogy by David Fricke in the August '06 issue.
I'm not looking for a critique of Barrett here, though feel free of course. Rather I'm wondering, was Ken Emmerson simply a comfortably numb Barrett hata'? Did the release of these albums on the heels of Dark Side force an unfair comparison? Or did something happen to the rockscape in the late 70s to allow for something like this to be appreciated? Did the whole sloppy DIY thing allow acceptance of something imperfectly beautiful and fragile?
What says you?