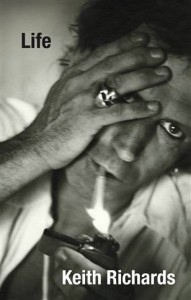 Keith Richards' autobiography, Life, is due October 26. In an effort to show just how smart Townspeople are and how able we are to move beyond cliched rock journalism and blog discussion, why don't you see if you can use the time from now until the book's release to tell us something we don't already know about Keef, something off the beaten path, something fresh and insightful? Why wait until Keef tells us himself – if he even does get around to telling us something we don't already know?
The Townsperson who tells us the Most Interesting Previously Unknown Fact or Anecdote about Keef – true or not – will be awarded a copy of the man's new book! This contest runs through 11:59 pm EST, October 25, 2010. Contestants will be judged on Originality, Historical relevance, Avoidance of well-established Richards cliches (eg, Jack Daniels, blood transfusions, fights with Mick), etc.
A special message from our Celebrity Judge follows the jump!
Were you expecting Johnny Depp? I look forward to your entries.