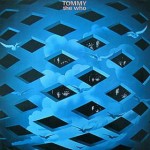 The recent post about the critical downgrading of concept albums has been an interesting read, hasn't it? One album that was proposed for a downward revision was The Who's Tommy. Now, stalwart RTHer machinery stated that record only has two (2) good cuts. I'm not about to go that far, but there is undeniably some filler. Perhaps it might be possible to cut Tommy down from a double album to a single. I'm personally somewhat skeptical about that since it would probably torpedo the storyline as well as leaving out some good music. However, some of you folks might have ideas on what should be trimmed to make Tommy a really strong single album, running somewhere in the 40- to 45-minute range. So get out your scissors and razor blades and have at it! What would you snip? The full track list follows…after the jump!
Side one
 
Title
Length
1.
"Overture"
3:50
2.
"It's a Boy"
2:07
3.
"1921"
3:14
4.
"Amazing Journey"
3:25
5.
"Sparks"
3:45
6.
"Eyesight to the Blind"
2:15
Side two
 
Title
Length
1.
"Christmas"
5:30
2.
"Cousin Kevin"
4:03
3.
"The Acid Queen"
3:31
4.
"Underture"
9:55
Side three
 
Title
Length
1.
"Do You Think It's Alright?"
0:24
2.
"Fiddle About"
1:26
3.
"Pinball Wizard"
3:50
4.
"There's a Doctor"
0:25
5.
"Go to the Mirror!"
3:50
6.
"Tommy Can You Hear Me?"
1:35
7.
"Smash the Mirror"
1:20
8.
"Sensation"
2:32
Side four
 
Title
Length
1.
"Miracle Cure"
0:10
2.
"Sally Simpson"
4:10
3.
"I'm Free"
2:40
4.
"Welcome"
4:30
5.
"Tommy's Holiday Camp"
0:57
6.
"We're Not Gonna Take It"
6:45
UPDATED: Townsman Hank Fan took matters into his own hands and posted the following EP version here! Check it out!