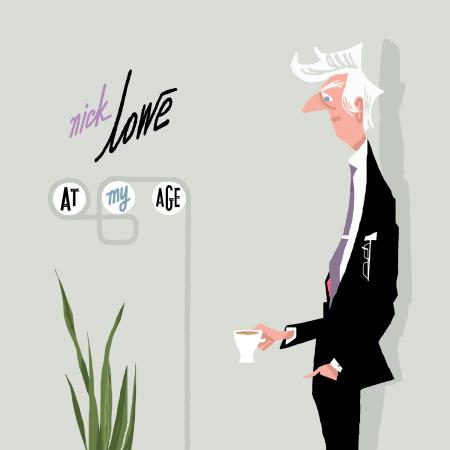 As all but the most tolerant, patient, and dedicated fans of Nick Lowe probably agree, shortly after Nick's first two albums, the lone Rockpile album, and the breakup of the entire Rockpile working arrangement, the guy's career hit a long stretch of mostly unsatisfying releases. Surely one of us is a greater fan of Nick the Knife or Party of One than the rest of us, and there's probably even a Nick Lowe fan who regrets his breaking up His Cowboy Outfit, but let's be honest, the guy lost his spark when he lost that Rockpile crew and from all accounts began changing as a person.
Lowe's reemergence as an unabashedly adult artist following the release of 1994's The Impossible Bird or 1998's Dig My Mood, depending on when you began paying him any attention again, was a welcome and inspiring reemergence. I loved hearing this guy who'd always had a facility for classic pop traditions bear down and confront them head on. How many more mediocre to bad releases would it have taken to convince me that the guy could no longer turn pop conventions on their ear? The guy could have released 100 more albums in a "rocking" vein and never come up with another "I Love the Sound of Breaking Glass" or the exquisite "Cruel to Be Kind". That's cool, and what's cooler is that he had the great sense to get out of the Jesus of Cool business and embrace the pop conventions that have always been at the core of his work.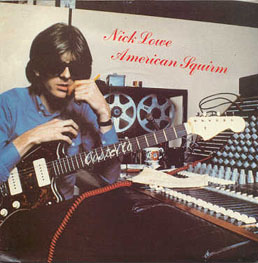 Jesus Has Left the Building
In an interview with Terry Gross on Fresh Air around the time of one of these mature albums, Terry asked Nick if there was a song that he loved that might suprise his fans. (This is a great question that Gross has asked musical guests over the years, and it could be a good thread for us here at Rock Town Hall someday, so keep it in mind.) Lowe's song was Tommy Edwards' ballad "It's All in the Game". He picked up his acoustic guitar and played a few measures of the song. It made so much sense, especially with his new direction. Dig My Mood and the follow up, The Convincer, each contained a few songs in that style (along with strong hints of Nat King Cole and The Platters). When he wasn't crooning on those fine albums he was doing the sort of country-soul identified with the songwriting and production of Spooner Oldham and Dan Penn. His whole "changed man"/"man who's finally found love" lyrical stance comes through loud and clear on these recordings, and I find them moving despite the "coffee table rock" aspects of The Convincer, in particular.
That brings us to his new release, At My Age. The whole adult rock/changed man thing continues to be at the foundation of his work and his publicity campaign, and that's all cool. The songs on this album are highly reminiscent of songs from his previous "mature" works, and as far as dedication to craft goes, this is somewhat cool. The arrangements and recordings are still display tremendous taste and understatement, which is very cool, but I'm not sure that I'm cool with the same batch of songs, the same lyrics, the same stance. If Lowe has dedicated golden years of his career to recrafting classic pre-Beatles pop, is he hitting the wall that halted the great works of Lieber and Stoller and associated artists, like The Drifters? Is there a reason that great stuff went by the wayside that has nothing to do with racial ceilings and moptops?
I know some of you would like me to shut up with the backstory and talk about some of the album's finest tracks, like "Long Limbed Girl", "Hope for Us All", and "I Trained Her to Love Me". That's cool. You're excited to hear a report on his breezy collaboration with former student and flame, Chrissie Hynde, on the breezy, insignificant "People Change". That's cool too. I'll tell you what, how about listening to the songs sampled here and digging them for yourself, discussing them as you see fit? Just click on the song titles with the mp3 links.
If there's any problem with this album it's that Nick and I are aging at different rates. As much as I appreciate him setting a dignified pace for rockers in their 50s – and believe me, this is a solid, enjoyable album and heads and shoulders above cynical "golden years" crap like that series of Rod Stewart Trashes the American Masters releases – I'm not ready to slow down that much yet. I want to hear Nick lash out at just one classic pop convention now and then. I know he's a changed man. I know he's finally found love, but he finally found that love 10 years ago. It's time I hear about something slightly new, pitched somewhere slightly new. We can work through this together, I'm sure, Nick. If all works out, I'll be your age one day too, and I'd rather feel what you're feeling than whatever it is crotchety old Bob Dylan's feeling on his recent releases. Maybe Bob is still putting up a fight, but I wish he'd include a tune along the way, just as I'd like to hear Nick kick back the slightest bit. That's cool, isn't it?