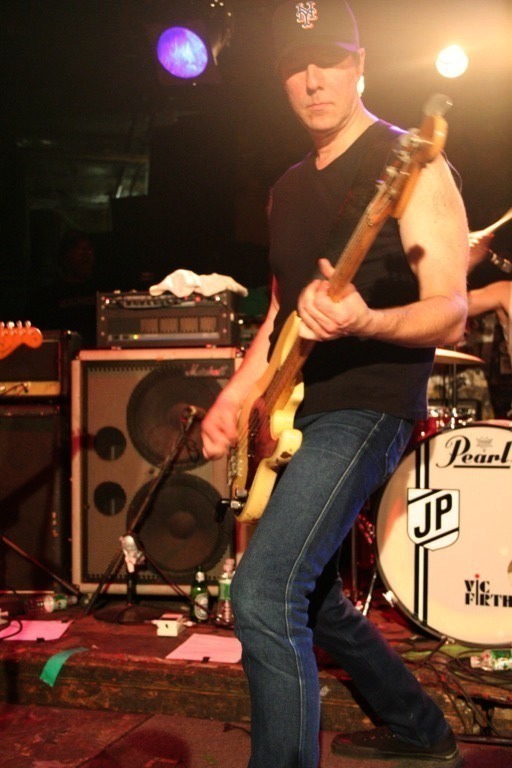 "Mr. Mod, you got a problem with my hat?" (Photo by Ragephoto.)
A few weeks ago we received an e-mail from Andy Shernoff, founding member of The Dictators and a longtime rock 'n roll agent provacateur. It turns out Andy was an occasional reader of Rock Town Hall and wanted to let us know he was coming to Philadelphia with his rock memoir/solo show, When Giants Walked the Earth: A Musical Memoir. You can read our little write up of that show and follow some links to the man's very cool career here. Let's just say that the The Back Office staff and I were thrilled and honored to learn that a guy who'd had his hands in so much of our shared musical heritage knew what went on in these hallowed halls. With the palms of our hands red from high-fiving, we asked Andy if he'd answer a few questions for us. Andy glady agreed before realizing what kind of piercing, nerdy questions he'd be getting from the likes of us. Nevertheless, the man took a deep breath and gave it his rock-nerdsage all!
Andy brings his When Giants Walked the Earth tour to The Rosebud Bar in Somerville, MA, outside Boston, this Saturday, July 10. I encourage our Boston-area Townspeople to attend. But that's not the only place you'll be hearing (and have been hearing) him in the coming week: "I just did a cool deal…," he tells me, "Major League Baseball is using The Dictators' version of 'California Sun' to promote the All-Star Game. This recording is from the demo that got us our first record deal and was the very first time I ever stepped into a recording studio. Truly bizarre!!"
Among his other activities Andy plays with The Master Plan, a party-rock supergroup that includes Keith Streng and Bill Milhizer from The Fleshtones and Paul Johnson from Waxing Poetics – and that features contributions from Hoodoo Gurus' Dave Faulkner, who recently represented Australia in the Rock Town Hall World Cup of Rock 'n Roll.
But enough of my yapping, let's get on with our chat with Andy Shernoff…after the jump.

Rock Town Hall: Is it accurate to describe your current show, When Giants Walked the Earth: A Musical Memoir, as a show along the lines of Ray Davies' storytelling tour from a few years ago, but most likely with less Kinks kontent? Can you tease us with partial details of a story we might hear?
Andy Shernoff: Ray Davies has been an inspiration since I first heard "You Really Got Me" but Nick Lowe is the direct connection to what I am doing now…. A few years ago my friend Tom Clark gave me a ticket to see Nick at the tiny Housing Works bookstore in NY. It was Nick, his guitar, maybe 150 people, and he gave a performance more powerful than any rock band I had seen in the past 10 years. It became obvious to me that if I wanted to age gracefully, craft trumps volume and pretense.
I have a long and unique history with Nick Lowe because I was at the legendary, disastrous Brinsley Schwarz performance at the Fillmore East. Their management had devised a publicity stunt worthy of Spinal Tap that went horribly awry and the show was an embarrassing fiasco. I was evidently the only person present who liked them. I even went out bought the import version of their first record, which makes me the very first Nick Lowe fan in America. Needless to say I have followed his career religiously ever since. I've met Nick on two occasions and attempted to impress him by mentioning that I attended the Brinsley Schwarz performance at the Fillmore, a memory he evidently didn't want to recall because both times he responded with a cold, icy stare.
RTH: The Long Island, or Queens, rock 'n roll scene you came out of was a nexus self-aware, fairly conceptual bands straddling punk and hard rock. Along with your band, The Dictators, there were predecessors and contemporaries, like The New York Dolls, Blue Oyster Cult, The Ramones, The Fleshtones, and Twisted Sister. I'm geographically challenged, but isn't KISS from that area too? Did you guys hang at the same kick-ass comic book store when you were kids?
AS: An insightful observation Mr. Moderator… northern Queens was indeed a breeding ground for the coolest rock and roll bands!… I will help you connect the dots.
I grew up in Jackson Heights, Queens, where I went to elementary school with Johnny Genzale (Thunders). Johnny went on to Newtown High School, also attended by Chaim Klein (Gene Simmons), Syl Sylvain, and Billy Murcia. Drive east on Northern Blvd a few miles and you reach Flushing High School, where I went to school with The Fleshtones, the guitar player from Joan Jett, the bass player from Pat Benetar, and the drummer from The Plasmatics. A few miles south near Flushing Meadow Park was Forest Hills High School which of course was the alma mater of The Ramones as well as Fred Smith from Television.
RTH: You were one of many "proto-punk" rockers who also wrote about rock 'n roll in fanzines and magazines. The punk era is frequently thought of, in part, as a reaction to or commentary on rock 'n roll excesses in the post-hippie/burgeoning "rock star" age. When you were in the moment, though, switching from writing rock record reviews to rock songs, did you at all feel that your musical aesthetic was an act of commentary as much as it was your natural inclination to kick out the jams?
AS: I had the idea early on, that rock 'n roll was a lifestyle not just a form of music. That's a pretty common attitude today but it wasn't so universal in the early '70s. Richard Meltzer, the rock critic, put that in my brain and I sort of ran with it when I started my fanzine, Teenage Wasteland Gazette, and continued with The Dictators. It was indeed the age of excess and 20-minute drum solos followed by 20-minute bass solos were pretty common. Things were getting out of hand and the pendulum was ready to swing back to a more basic approach. The Dictators were a little ahead of the curve but literally few months after our first record was released, CBGB's started to happen, there were interesting rumblings in London, and
voila!… rock 'n roll was saved!!
RTH: What's been your take on the "proto-punk" tag over the years? As punk rock began to emerge and define itself/be defined as such, did you see yourselves as naturally part of that scene or integral to its development? I ask, in part, because as a teenager trying to define himself by an identification with this new music I remember hearing you for the first time and being disappointed because you weren't as "punk" as I'd expected you'd be based on what I'd been reading. Only years later could I appreciate your music for the tough, fun rock 'n roll it was.
AS: Let's face it, The Ramones defined the sound of punk. They influenced every band that followed them. The first Dictators record however, came out a year before the first Ramones record so their music did not affect me. We weren't so reliant on the monolithic downstrokes that defined the "punk" sound. By the way, I trace the source of that Ramones sound back to two songs, "Paranoid" and "Communication Breakdown." If The Dictators contributed anything it was an attitude and lyrical irony that helped to define the punk aesthetic. The music was a hard-to-digest amalgam of metal, hard rock, garage, pop, and surf music fronted by a guy who thought of himself as a bad-guy wrestler. You had to be informed to get it; we weren't for the dilletante rock fan.
RTH: What's the cultural value to rock memoirs? I'm not asking you to get pretentious on us, but as a musician what do you most seek to learn from them or share in your own tales?
AS: I'm not going to claim there is some cultural value to what I am doing. I was an eyewitness to the most exciting time period in rock 'n roll and I have a story to tell. It helps if you are familiar with the characters, but even if you are not I believe the music will win you over.
RTH: The video for one of your current bands, The Master Plan, has a funny "make your band" conceit that a number of our readers can relate to from a Fantasy Rock Band League we once tried to establish. Aside from The Master Plan, who would constitute your fantasy rock band?
AS: This would be the greatest band ever…
Singers – Wilson Pickett & Joey Ramone
Guitar – Jeff Beck
Guitar – Steve Cropper
Piano – Nicky Hopkins
Bass – Paul McCartney
Drums- Al Jackson