The world moves and it swivels and bops
My infatuation with female bass players is well documented and this thread could easily, especially for me, be a flippant, voyeuristic look at hot chicks thumping basses (don't worry we'll get there), but the truth is that I feel that there is a deeper connection between the bass and the female that is primitive and intoxicating.
Nothing against men bass players but more so, I feel, than any other instrument, the bass and woman have a unique connection. In fact I would haphazardly postulate that there are more female bass players in rock bands than female any-other-instrument players. The sexist hypothesis might be that the bass is easier to play. Well that's as may be. But, regardless, I think women are drawn to play the bass.
My theory is that bass-chicks are modern-day Fertility Goddesses.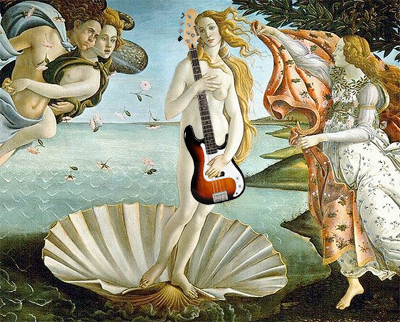 Many, if not most, ancient societies had some sort of fertility goddess. Ancient Rome had Venus (Greece had Aphrodite), Norse Pagans has Freyja; Egyptians had their "cow-dieties" (milk givers), including Bat. Many cultures combined their fertility goddesses with the Mother goddesses, nurturer and giver of life. Some started as fertility goddesses and over time took on maternal qualities.
African, Middle Eastern, Egyptian, and other civlizations included dancing among their fertility rites and goddess worship. The most famous being the belly dance, which many believe was both a way to sexually arouse men as well as strengthen the hips for childbirth.
And with fertility dancing comes music. Here's an Ethiopian dance group. Listen to the music…bass tones and drums.
The rhythm section. The rhythm of life. The rhythm of life (love) making.
In addition to rhythmic qualities the bass can have other womb-like connotations. It is deep, dark, and warm–and you can hear and feel the heartbeat. This concept of woman as nature, as the divine, as the goddess, feels best expressed by the heartbeat instrument. Tina Wymouth (Talking Heads, Tom Tom Club) almost literally gets up on a pedestal near the end of the opening clip so that we can worship her.
Watch RTH favorite, Paz Lenchantin (A Perfect Circle, Zwan…) in this clip. Watch the way she wraps her painted fingernails around the neck at about 00:30 in. She ties her hair up mid-song at about 1:53, as only a woman can.
These are overt instances of her womanhood. But the way she leans into her playing/instrument throughout, writhing if you will is exquisite sensuality.
I'm not saying that Sara Lee (League of Gentlemen, Gang of Four, B52s…) is correct in her assessment in the following audio clips, but I find it supportive of my intuition that it is coming from a female bass player. This is from the opening audio collage, "Indiscreet I." on Robert Fripp's The League of Gentlemen LP.
Sara Lee on what rock music is about.
And on dancing:
Sara Lee on dancing.
The simple act of strapping on the lumber isn't enough though. For the magic connection to happen, as I suppose with any instrument, she has to understand it and feel it.
D'Arcy feels it (song starts at about 00:39):

Kim Gordon feels it:

So much so that Steve Albini did a song, "Kim Gordon's Panties"
Melissa Auf Der Maur feels it:

Sean Yseult feels it:

It's not just that I have a carnal desire to get with these ladies, as say I do with Liv Tyler or Scarlett Johansson, it's much more. Their understanding, mastery, and perhaps even exploitation of the feminine life force drive me to something more akin to worship.
The magic doesn't always happen though, regardless of physical beauty or even talent.
Aimee Mann doesn't have it:

Julianna Hatfield doesn't have it:

And who started it all? Or at least stuck a crowbar in the woman-playing-bass door? Possibly the woman who played the iconic bass in "Good Vibrations", Carol Kaye.
Resource for guys who dig bass girls:
http://www.geocities.com/bodacious_bass_babes/
She is only partly human being
Divine, to define, she is moving to define, so say so, so say so
She defines the possibilities
Divine, to define, she is moving to define, so say so, so say so
Holding on for an Eternity