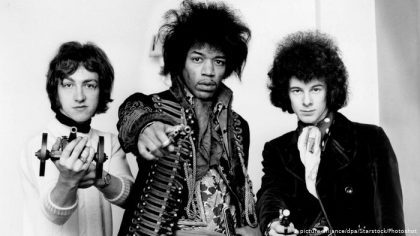 Have any of you trio ever played in a trio? I have not, other than one Nixon's Head show at the end of a tour in 1987. Having lost our second guitarist shortly before embarking on that tour, we set out as a quartet. On our last show, in Toronto, however, our singer Andy had to fly home early for the wedding of one of his sisters, if memory serves. Seth, Mike, and I played as our emergency trio formation Three-Headed Pig. At least Seth, who was violently ill before the show, tossing cookies in one of the dirtiest rock club bathrooms we'd ever had the displeasure of visiting, was able to get himself together and play drums. Otherwise, Mike and I would have been forced to play as Double-Breasted Wombat. We were actually running through how that set might have been constructed.
My guess is that a lot of trios are formed around an alpha musician, like Jimi Hendrix or Sting or Steve Ray Vaughn. That's reasonable. If you're Jimi Hendrix, you don't need a rhythm guitarist clogging up space.
Being a bit jealous of alpha musicians, I take it a step further and imagine that trios must be composed of difficult, slightly anti-social people. (One exception being a beloved cousin band trio from my youth, Bob's Revenge, let by our very own Hrrundivbakshi and Machinery.) One of the things I like best about being in a band of 5 or 6 people is the ability to move around and socialize with a wide expanse of personalities. While the singer and drummer are working out a particular fill, I can goof around off to the side with other band members. I don't think I would have as much fun off in a corner by myself while Andy quotes one of a half dozen fills by either Pete Thomas or Ringo, as he tries to show Seth what he's got in mind.
I started thinking about how lonely it must get in a trio when Andyr told me about seeing Sleater-Kinney over the weekend. The once-proud, bass-less power trio is now a 6-piece, with a bassist, keyboardist, and second guitarist/mascot. I wonder, after the band's previous breakup (or was it a planned hiatus) and then Janet Weiss leaving during the making of that slick album produced by St Vincent, if Corin and Carrie needed some extra pals to break up the tension.
What is the average lifespan of a trio relative to a quartet or quintet? Beside ZZ Top and Rush, how many trios have lasted 15 years? (Trios composed of siblings and vocal trios don't count.)
Andyr and I started talking about this yesterday. He asked, "Did Emerson, Lake, and Palmer last 10 years?"
However long they lasted was way too long.