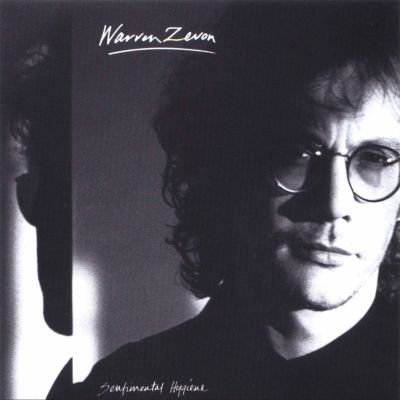 As I mentioned yesterday, I finally picked up Warren Zevon's largely overlooked Sentimental Hygiene, his 1987 release with members of R.E.M. and other guests that signalled a return to form following a particularly long and intense period of drug and alcohol abuse, even by this hard-living cynic's standards. Five years after Zevon's unexpected premature death by lung cancer (who didn't think he would OD?), this album stands as a bookend to the artist's typically other overlooked work, 1980's Bad Luck Streak in Dancing School. Considering I'm listening to this album for the first time ever and it sounds exactly like every other album I've ever heard by the guy, my initial thoughts follow in cut-up fashion. My thanks to a variety of critics and bloggers, who did the heavy lifting and posed, sometimes unintentionally, a couple of piercing questions.


In 1987, following a well-publicized fall off the wagon upon the release of The Envoy, West Coast-based songwriter Zevon returned from a 5-year lull in album releases with Sentimental Hygiene. Featuring a newly muscular sound that verges on Springsteen territory, the album, his strongest record in years, zoomed with renewed vigor, well-placed cameos, and Zevon's trademark mix of black humor and heartache. It was both of a piece with his previous rough-edged L.A. session sound and a shameless attempt to modernize the part of his catalog that is his goofy dreck.
When Zevon hit the scene with his 1976 LP, Warren Zevon, his association with The Eagles and Jackson Browne linked him to Los Angeles' touchy-feely singer-songwriter crowd. But his best songs had the acerbic bite, dark sense of humor, and pounding rock & roll heart that his pals' music lacked. Not that all of his music was dark and violent. His oveure contained some straight-out comedy as well, including "Werewolves of London."
The real question about Zevon, however, was whether his sense of rhythm was good enough to induce you to listen as frequently as Bob Dylan. A few members of the L.A. Mellow Mafia (David Lindley, Waddy Wachtel, Don Henley) made cameo appearances on the new album, his strongest record in years, but for most of the sessions Zevon wavers between blaming himself and bum luck for working with the members of R.E.M. minus Michael Stipe (for the most part; he appears on "Bad Karma"). At this point, the band was about a year away from its mainstream commercial breakthrough. Defying the odds, they made for a solid, no-nonsense rhythm section – just straight propulsion of the sort punk made commonplace – and gave the music a passionate, forceful backbone that was largely absent from The Envoy (not to mention rocking harder than one might expect from the kings of jangle pop).
Among the album's other inspired hairy-chested collaborators are Neil Young, whose jagged guitar runs embroider the title cut; Bob Dylan, whose howling harmonica is the ideal punctuation for the Springsteen-gone-psychotic "The Factory"; and George Clinton, who adds a bed of menacing sitar noodlings to "Leave My Monkey Alone."
Between amply documented binges, Zevon prowls the Hollywood hills, painting ominous, hard-hitting portraits ("Boom-Boom Mancini") and lashing out at duplicity ("Even a Dog Can Shake Hands"). But the 5 years since his last album, The Envoy, as well as the experience of detox, had mellowed him a bit. When he sings "Reconsider Me" (with Don Henley on background vocals) and, in a similarly straightforward fashion, "The Heartache" (with Jennifer Warnes), you have to wonder: Could this be the man who, on 1978's Excitable Boy, chortled about rape, mutilation, and Patty Hearst? His criticism is now most often directed at himself. Zevon turns his forked tongue inward on "Detox Mansion." His alcohol rehab experiences bubble over the top in the alternately hilarious and gripping song, resulting in the album's funniest, hardest hitting and ultimately, most rewarding moment. This mix of angry rock and sincere self-deprecation gives Sentimental Hygiene, his strongest record in years, its drama.
It's a sign of Zevon's strength that despite the high-profile presence of R.E.M. Sentimental Hygiene proved that Warren Zevon was still an artist to be reckoned with, and that which didn't kill him had only made him stronger (and more bitterly funny).