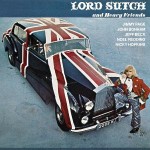 Jeff Beck. Jimmy Page. John Bonham. Noel Redding. Nicky Hopkins. Stellar rock names who would have been a million-dollar band back in 1969-1970. You'd think that an album featuring all these excellent musicians would be a must-have classic for the ages, right? Not this time, bunkie.
Screaming Lord Sutch (aka David Edward Sutch) was a uniquely English phenomenon. Though woefully deficient in musical talent (something he readily admitted to), Sutch was never short of chutzpah. His foppish clothes, long hair, and a Union Jack-painted Rolls Royce Phantom V limousine  endeared him to young people and he became a fixture in the nascent UK music scene in the early 1960s. Mick Jagger supposedly referred to Sutch in the lyrics to "Get Off My Cloud" as "a guy who's all dressed up like a Union Jack." Sutch earned some notoriety for his horror-tinged stage shows and records, long before Alice Cooper appeared with his snakes, dolls, and guillotines. One of his better-known early singles was "All Black and Hairy" which, by the way, is not the title of an exploitative and racially-themed porn film.
In 1969, Lord Sutch managed to convince Messrs. Beck, Page, Bonham, Redding, and Hopkins to help him out with some demos he was recording in Hollywood. I don't know how Sutch was able to perform such a feat, but my overheated imagination comes up with all sorts of blackmail scenarios. Jimmy Page said it was done on a lark under the condition that the names of he and his "heavy friends" would not actually appear on any recordings by Sutch. Now imagine Jimmy's dismay when he saw his moniker emblazoned on the cover of a 1970 album titled Lord Sutch and Heavy Friends.
Friends, this is a truly dreadful record that quickly outstays its welcome even as a novelty. Critics everywhere justifiably savaged the album. Sutch is a horrible singer, the songs are unimaginative and derivative in the British Blooz tradition, and the famous names backing him sound like an anonymous garage band. You don't have to take my word for it…
Page and company were embarrassed by the whole affair and tried to distance themselves from Sutch and his album as much as humanly possible. Page also was adamant in insisting that, contrary to the credits on the album, he did not co-write any of the songs nor did he play any of the guitar solos. The record is now something of a cult classic and appears on "Worst Album" lists everywhere. Lord Sutch (who was never really a Lord or any other title of English peerage) continued to perform, released several more albums with little or no notice, ran as a joke candidate quite a few times, and remained a lovable eccentric in British eyes. However, Sutch's story does not end happily – he suffered from depression as time went on and eventually committed suicide by hanging in 1999. Have you ever heard of this guy and how do you remember him?