Friday night, April 16, in Philadelphia marks a long-awaited reunion show for Baby Flamehead, a late-'80s local (at least) sensation featuring two of our regular contributors. The show will be at the M Room. There's not a whole lot more I can say about the band and how much I intend on enjoying this show. For this reason and others that I'm too classy to explain, I'm getting a headstart on our occasional Friday Flashback feature. Enjoy!
This post initially appeared 12/6/08.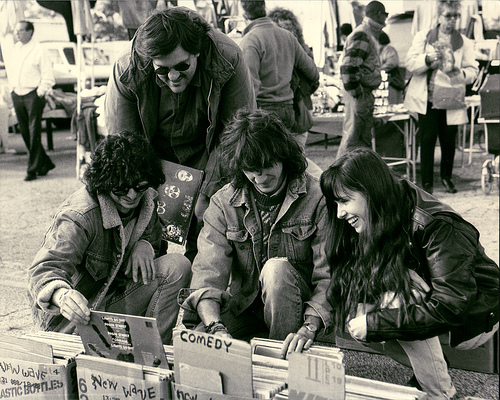 General Slocum, Mrclean, and bandmates shopping for used records, sometime in the late-80s
I saw this photo of Baby Flamehead, a cool Philly band from my youth, featuring two old friends and Townspeople, General Slocum (Andy Bresnan) and Mrclean (Dean Sabatino), and took a walk down memory lane. Your memories might differ, but won't you join me?
Baby Flamehead, "Badadadadup (Live on KCRW in 1990)"
Long before he achieved rank as General, I met the young Mr. Slocum, if memory serves, through an English class at Temple University that we blew off almost as often as we attended. The lure of checking out the latest arrivals in the record bins at the Temple bookstore sometimes took precedence over the instruction of our Paul Simon lookalike professor. For some reason the bookstore had a line on cutout Klassic '60s Kinks albums (cheap Spanish pressings), the EMG catalog (ie, Eno, Fripp & Eno, Jon Hassel, Penguin Cafe Orchestra, etc), and some high-brow jazz (eg, Anthony Braxton) I would not otherwise have risked more than a precious $1.99-$2.99 on checking out.

On the Kindness of Strangers, "Bartokspotting"
Andy and I hit it off bigtime, discussing the arts, women, altered states, and other Big Issues. He had an established band, or what might more accurately be called a collective these days, named Junior Mints. I'd seen them play a couple of times, and they were unlike anything I was used to seeing. Andy led the band with his old partner in crime, Chris Pastore. The two of them played various horns (and woodwinds, I believe – I still don't have all those distinctions straight) – Pastore exclusively played instruments that required blowing into something. (Bresnan and Pastore also were featured as The Giant Slugs, the guest horn section that always brightened an early Ben Vaughn Combo performance.) Andy could – and did – play everything. Junior Mints played a combination of kitschy '60s covers, Bartok movements, punk rock, Velvet Underground, and anything guest contributors would bring to the stage. Show-by-show the band's lineup varied, but the next two most consistent members were an anarchist punk-type singer named Christine and a naturally super-cool rock guy named Chris Unrath. Unrath had perfect curly rock locks and could dangle a cigarette perfectly in his Rolling Stones lips while effortlessly cranking out Keith Richards cum Sterling Morrison licks. Other contributors who'd drift in and out of shows included a soundman named Andre, who was featured on guitar in some killer song that now escapes me; a tall, wispy late-night DJ who looked like he could have crawled out of Andy Warhol's Factory (this guy was great too, but time has dulled my ability to remember exactly what he contributed that was so right for the band's act); and a host of other non-uniform characters who were ready to march to Andy and Chris' beat…when it was convenient for them.
At this time, I was working with my old friends at keeping our proto-Nixon's Head afloat and in development while key members were attending college outside the Philadelphia area or were working through girlfriend-induced "retirement" from chasing the music dream. Although our goal-oriented nature was totally geeky and opposed to the natural cool expected of guys who were born to rock, it would serve us well and – in our formative early years – serve as a protective shield while we learned how to play our instruments, write songs, and develop a halfway acceptable Look. Suffice to say, the proto-Head members in the Philly area had plenty of free time.
Andy and Chris P, probably looking for a couple of rock-solid band members who would not opt out of gigs in favor of whatever busy social circuit it was that kept their "Factory" contributors occupied, asked Sethro and I to join Junior Mints as their permanent rhythm section. We jumped at the chance to play with an established band at established clubs and weird parties. The chance to rub up against that "Factory" crowd that seemed to congregate around Andy was icing on the cake. It was a lot of fun, although I was constantly in awe of Andy and Chris' ability to loosely manage such a loose-knit organization. I knew then that I was and would always be a major tight ass.
I think we played with Junior Mints for a year and a half, by which point our own band started to come together. Andy and I continued to work on some cool recordings on our own, including a Residents-like version of The Doors' "Five to One" and some other song that required us throwing a pot lid or mic stand base on the ground at just the right moment. I can't remember the details, but I do remember laughing really hard as we tried to nail this key overdub.
As the Head got its act together, we were granted some choice opening spots for the two biggest and best bands in our local punk rock scene, the aforementioned Ben Vaughn Combo and The Dead Milkmen. Opening for the Combo was a breeze: the band members and many of their fans were a little older than us, meaning that our fairly "square" tastes in '60s pop were appreciated with as little irony as we had for that music. Opening for the Milkmen was a little more intimidating: they had ties to both the hardcore scene and the all-ages scene. Our tastes in punk rock were strictly pre-hardcore, and back then I was certain that no one could better see through to the 14-year-old pussy within me than a living, breathing 14-year-old boy! Thankfully, we usually went down as well with the Milkmen crowd as we did with the Combo crowd. The members of both bands were very welcoming, friendly, and supportive. Backstage in Cleveland, Milkmen drummer Dean Clean (nee Sabatino), even served us chicken. That, my friends, is an act of kindness!
Baby Flamehead, "Thimble Full of Nothing"
Over the course of those mid-80s Philly scene years, a lot of cross-polination went on — offshoot bands, special guests from other bands jumping on stage, late-night jam sessions. It's been that way for every band that's been through any scene in any town, but this was our scene and our time, and it was cool whenever one of these moments came together. An offshoot band was especially cool to see for the first time, and although I do not rememeber the details, I'm almost certain I saw the first apppearance by Baby Flamehead, which brought together a Dead Milkman (Dean) with two former Junior Mints (Andy and Chris Unrath, of the super-cool Stones lips and dangling cigarette) and a newcomer to the scene, a fresh-faced, slightly artsy singer named Eden Daniel. The band was mostly if not entirely acoustic when they started: Andy played some exotic 3-string, acoustic stand-up bass that perfectly matched his imposing frame. Chris played acoustic guitar. Dean played a toy drum kit, which perfectly matched his nonstop grin. (If you've never seen Dean play live, his grin may be the only grin in rock that matches the outstanding rock grin of Billy Zoom.) Others will better know Eden's background, but all that mattered that night was that she had a good voice and looked great. Baby Flamehead was an instant sensation, all the more so for covering both the theme from Sesame Street and the theme from our local Action News broadcast.
Baby Flamehead, "Action News Theme"
Baby Flamehead, "Sesame Street"
While the Milkmen chugged on and reached new, exciting heights that bands in our scene could rally around, we all looked forward to the next Baby Flamehead show. I was really happy to see my friend Andy in a "real" band, focusing on a well-defined part of his broad musical palette. I was happy to see Dean being so happy on stage (not that that was anything new). It was about time Unrath held down a steady job in a band and did what he did so well on a consistent basis. As someone who never had great "natural musical ability" and badly wanted to be cooler than I was – I felt guys like Unrath, who could play circles around most of us and be cooler than us without even trying had an obligation to rock. Although Eden wasn't much of a scene-maker off stage, she was a great frontperson for the band. She and Chris were a couple, I believe, at this time – or at least they gave off that vibe and all the drama it connoted. (See correction here.)
Baby Flamehead, "Supple Turtles Worry About Milk"
Baby Flamehead, "Amy (Live on KCRW in 1990)"
We expected Great Things of Baby Flamehead, and in short time they were signed to Texas Hotel Records, owned in part by Michael Stipe. They supported their album, Life Sandwich, with small tours in between the busy touring schedule of Dead Milkmen. The album is long out of print, so enjoy these tracks and click here if you want to find some more Baby Flamehead downloads.
Baby Flamehead, "Corpus Christi"
Baby Flamehead, "Stupid Surfer"
Now we're getting into the late-80s/early-90s, if I've got my dates straight, and the lives of mid-'80s Philly scene members are getting more complicated. Many of us are trying to figure out what the hell we're going to do now that it's becoming clear the dream of some form of rock stardom is fading. Some are getting into serious relationships. Some are moving away. Around this time Andy leaves Baby Flamehead. Maybe he can fill you in on the details, but it shouldn't have been a surprise that a guy with such a broad vision could not last long in a fairly tightly focused pop band. He's replaced by, among other members of our old scene, Art DiFuria (known in the Halls of Rock as Saturnismine), Andy Chalfen (known in the Halls of Rock as Tvox), leader of his own fading band at the time, The Wishniaks, and now the leader of one of my favorite post-mid-80s scene bands, The Trolleyvox. (See correction here.) Chris and Eden may no longer be a couple, with all the drama, I would presume, that connoted. Dean, I'm sure, kept grinning, but without Bresnan conducting one of his musical worlds, it couldn't have felt like the same Baby Flamehead. At least it didn't seem like the same Baby Flamehead to me (no insult intended for any replacement or remaining members). Baby Flamehead, in their prime, was a special mix of special people. They were a great example of what a local scene can produce. I hope you've enjoyed the songs I've sprinkled throughout. I wish I could have found a YouTube clip of the band peforming live, but we didn't walk around with camera phones back then.
I'll leave you with two seasonal tune from Andy's next, brave new musicotheatrical world, Big Mess Orchestra.
Big Mess Orchestra, "Sound & Vision"