Here's where I expect sparks to fly. The Stones opened Round 1 with a furious set of haymakers. Rod Stewart had his best work stripped from him and added to its proper place in 1970, leaving him nearly defenseless against my favorite post-Brian Jones-era Stones album. However, despite chronological inaccuracies, my writing on Stewart's early strengths was so strong that I managed to keep him standing and alert when the first round ended. In Round 2, Rod Stewart established his footing and skillfully accumulated points from the judges compared with the Stones' party-hearty, contractually obligated "live" album. Now, as we enter Round 3, covering the artists' 1971 releases, both contestants answer the bell looking to score an early knockout!

The Stones release of Sticky Fingers is loaded with radio-ready rockers and the richest ballads they'd displayed to date. There's "Brown Sugar", "Wild Horses", "Can't You Hear Me Knocking", and "Bitch" for starters. There's also the overrated "Moonlight Mile" among other highly regarded deep cuts. That's cool: we're all entitled to overrate a deep cut or two per great album.
Despite my never loving the album or feeling the need to own it, Sticky Fingers is a powerfully crafted album – and we'll want to consider issues of craft in 1971's tightly fought Round 3 – and the first Stones studio album to prominently feature the fretwork of Mick Taylor – and not an album too soon! As the times demanded extended jams and more stringent blues credibility, Taylor brought chops to the band that were already in place in upstart hard rock bands like Humble Pie and Faces. As great as his work in this period was, Keef wasn't going to cut it as a lead guitar hero in the post-Altamont landscape.
In setting up this Battle Royale, I pledged to center the examination around the music, at least in the early rounds, but before we move on I've gotta give Mad Props to the album cover. Here's a definite, early advantage for the Stones in comparison with the typically blah album covers associated with most of Stewart's work during this period.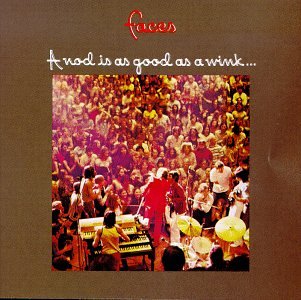 Now…
Rod Stewart, "Every Picture Tells a Story"
Faces, "Bad 'n Ruin"
Rod Stewart, "(I Know) I'm Losing You"
Then…