While the Rolling Stones continue to battle Rod Stewart and the Faces in the 1970s and once more find the merits of their later work in question in the Rock Town Hate thread, this seems as good a time as any to take a closer look at the oft-maligned cover of their 1986 Dirty Work album.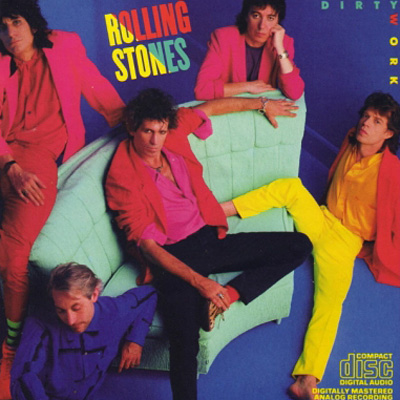 As photographed by Annie Leibovitz, the Dirty Work cover could be viewed as testament of what had gone wrong for the Stones. Lounging about in garishly bright outfits, the band seemed to embody the ideas of 1980s excess and lack of taste. Indeed, this was something of a sign of the times, as the band photo was reportedly a record label mandate, and Dirty Work may have been the first Stones album to be released on both vinyl and compact disc.
Though perhaps not the most popular album cover in the Stones' catalog, Dirty Work does stand as not just a symbol of the times, but also a commentary on the band itself. As someone once sang, every picture tells a story.

In 1996, a Usenet poster – and founder of the Dirty Work Defense Rescue Squad – explored some of the symbolism on the Dirty Work cover:
After all the chic fashionable covers with faces concealed, tattooed, or photographed in Infrared here they are again, very clearly for all to see: The Rolling Stones gathered round a modern curved sofa, dressed in highly contrasting colors: yellow, pink, red, blue and green. Look at their faces, this picture tells a lot. It's KR who's in charge here, I think, and Mick doesn't like it. Bill has a bad time and Charlie doesn't even want to look up. Okay, this is all just interpretation. But after reading a bit about this period – they were on the verge of a break-up – the picture seems to tell a big story. Apart from that it's just beautiful and straightforward.
Engaging your abilities of critical analysis, what do you see in the Dirty Work album cover?
Is there symbolism in Keith's spot at the center of the photo?
What of Mick, sprawled on the floor, perhaps having been recently unseated?
Is there anything to be read from the placement of Mick's foot in relation to Keith's ass?
Is Ron Wood dressed like The Devil? What of his Wizard of Oz witch socks?
Can we read anything from Mick's shoeless state, his lack of soles, so to speak?
Bill Wyman is shown half-hidden behind the couch. What are we to make of the image of a bass player with no bottom?
Has Charlie Watts actually been dead since 1986?
Is there any significance to the colors chosen for each of the Stones?