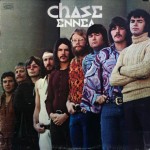 Blood, Sweat & Tears (post-Al Kooper in particular) is not the most beloved group around Rock Town Hall – for good reason, too. They represent the bad side of the so-called "jazz-rock" trend of the early 1970s. Not only did BS&T render up laughably horrific versions of classic songs ("Symphony/Sympathy for the Devil," which I proudly inflicted upon the hall in a previous post), but they also served up some of the most annoying radio fodder ever ("Spinning Wheel", "Go Down Gamblin'"). While lacking in any real rock credentials (unlike early Chicago) or true musical vision (unlike near-progsters like Soft Machine), they offered up fourth-rate bland Kentonisms backing up immortally-bad vocalist David Clayton-Thomas, who always sounded like he was vomiting when he pushed himself. No jazz-rock could be more unlistenable than BS&T, right? Dear children, prepare yourselves for a plunge into the abyss….
Chase was a short-lived "jazz-rock" group active from 1971 to 1974. The band was founded by Bill Chase, a veteran trumpeter who had played with such luminaries as Maynard Ferguson, Stan Kenton, and Woody Herman. Chase explored the same basic musical territory as Blood, Sweat & Tears even to the point of having a singer (G.G. Schinn) who worked very hard at being a Clayton-Thomas clone. However, there were a couple of vital differences…
Their prime sonic shtick was four trumpets fiercely shrieking at maximum decibels. Bill led the four screamers with his trumpet pitched up to the point where human ears bleed and dogs run for cover. Unlike BS&T, there were no saxes or trombones to balance out the brass sound so everything was up at the high end.
They were rather more pretentious in that they wrote more of their own music (mostly Bill Chase again) and were given to multi-part themed suites about things like flowing rivers and Greek gods. They lacked even a semblance of the loose "good-timey" vibe that BS&T would occasionally exhibit.
The group had one monster radio hit in 1971 with "Get It On", which spent 13 weeks on the Billboard Top 100….
[audio:https://www.rocktownhall.com/blogs/wp-content/uploads/2012/01/Chase-Get-it-On.mp3|titles=Chase – Get it On]
As bad as that was, there were worse songs, though none were quite chartbusters. For instance, how about their version of "Swanee River," which Bill Chase was generous enough to co-credit Stephen Foster?…
[audio:https://www.rocktownhall.com/blogs/wp-content/uploads/2012/01/Chase-Swanee-River.mp3|titles=Chase – Swanee River]
One more, then I promise I'll stop: "Handbags and Gladrags," the Michael d'Abo song made famous by Rod Stewart…
[audio:https://www.rocktownhall.com/blogs/wp-content/uploads/2012/01/Chase-Handbags-and-Gladrags.mp3|titles=Chase – Handbags and Gladrags]
And now for a terrible confession: I liked this stuff when I was in high school. I can only blame an infatuation with horn bands plus, of course, the drugs. At any rate, tragedy struck after three albums. Bill Chase and a few other band members were killed when their chartered plane crashed in Minnesota on August 9, 1974. That was the end of the group, and only a cruel and heartless person would have to gall to suggest that divine justice played a part. A final note to the Chase story: when author Dave Marsh put together The Rolling Stone Record Guide in 1979, he had a single-word review for the entirety of Chase's output: "Flee."