RTH: Do you consider yourself successful or do you ever sit back, watch a U2 video and think, "What load of bollocks I can kick the shit outta these guys!"
CS: I think I'm successful. And so are U2. And I probably could kick the shit out of them, one at a time, but they do seem very nice.
RTH: You've declared that you've had no interest in following the blues-rock guitar style made popular by the likes of Eric Clapton. Did your "anti-Clapton" approach factor into Jack Bruce choosing you to play on his debut solo album?
CS: I don't know – you would have to ask Jack. I think my decision to adopt an "anti-Clapton" approach was a negative one and not a good move. It only lasted a couple of years and I got over it.
I was never a "Cool Uncle," more of an embarrassment to them, I think.
RTH: I became exposed to you via Brian Eno's Here Come the Warm Jets. How did you get involved?
CS: I met Eno & Phil when my band, Sharks, supported Roxy during Eno's last tour with the band. I met Fripp touring with Centipede.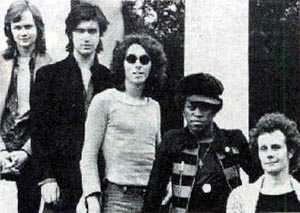 Chris is the Shark with the best hair
Sharks, "Doctor Love"
RTH: There are some raw, almost Stones-y recordings of you playing live with Brian Eno floating around. Somewhere I've got a live version of "The Paw-Paw Negro Blowtorch". On an Eno website there's mention of an unreleased documentary made around these sessions. What is the story behind these recordings and the documentary?
CS: It's the first I've heard of this. I don't ever remember playing live with Eno. I don't remember cameras at the studio.
RTH: Is it true you turned down an invitation to join The Rolling Stones following the departure of Mick Taylor?
CS: Sometime in the late spring, early summer of 1975, Jagger called me and asked what I was doing in August. I replied I'd been booked to tour with Roy Harper. Jagger said that was a shame cos the Stones were touring USA at that time. That's about the substance of the conversation. No offers were made and nothing was "turned down."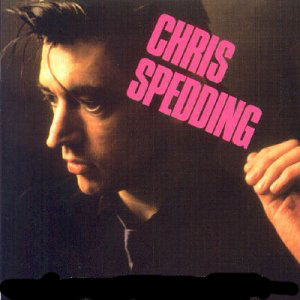 RTH: By the time punk came around, so many of your contemporaries had gone back to Sheffield to make cabinets, but you managed to soldier on and do work with The Vibrators and The Sex Pistols. How did you hook up with these snot nosed punks? We're you like the Cool Uncle to that crowd?
CS: Chrissie Hynde took me to a Pistols gig at the 100 Club in early 1976. Malcolm McLaren and Vivien Westwood made all my retro '50s outfits. That was how I got involved. I was never a "Cool Uncle," more of an embarrassment to them, I think.

RTH: Bryan Ferry's Let's Stick Together album is one of my favorite, chunky rock 'n roll albums. Do you have any particular memories from those sessions? What was it like re-cutting some Roxy Music songs on a Ferry solo album alongside Phil Manzanara? Did Ferry and Manzanara express any feelings about competing with their band's legacy?
CS: I never worked alongside Phil in the studio. We recorded at different times. I enjoyed that period and thought I did some good work. They were all very talented people at the top of their game.
Next: Once and for all, Chris answers the question on all rock nerds' minds!