DUGOUT CHATTER: armyofquad Edition
RTH: What was your first music-playing device beyond a radio (eg, boom box, Walkman, cheap stereo)?
armyofquad: I had a kid's record player as a kid. I spent many hours listening to records on it.
RTH: Did quadraphonic releases come with especially cool record covers?
armyofquad: They come in different covers. Many of the Columbia albums have a gold border around the album art. Different labels had their own ways of distinguishing their quad albums.
RTH: Do drugs help or hinder the quad experience?
armyofquad: I wouldn't know.
RTH: Was The Who's Quadrophenia ever released in quad?
armyofquad: There was a quad mix made of Quadrophenia. But it never did get released in quad due to Pete's disappointment with the technical limitations of the QS quad format, which it was scheduled to be released in. It would be great if they would release it on a modern format now that we have the technology to give it the proper release that it deserves, but getting in touch with The Who has proven to be a bigger challenge then getting in touch with Lou Reed.
RTH: Can there one day be hexaphonic sound?
armyofquad: It's already gone beyond it. If you shop for a new surround system, someone will probably try to sell you a 7.1 or 7.2 surround system.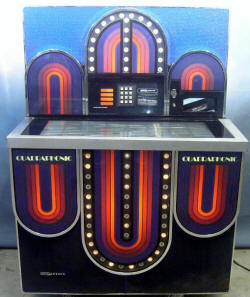 Did it take twice as many quarters to play two songs on a quadraphonic jukebox?
Thanks again to armyofquad and BigSteve!