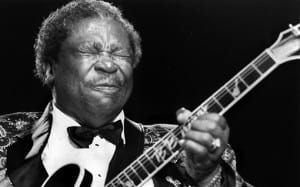 Legendary longtime Gibson guitar-mate Lucille has confirmed that blues legend B.B. King has died at the age of 89. I'll be honest, my deep appreciation of King's legendary blues status is limited to the standard 1-measure excerpt of the chorus of his legendary hit song, "The Thrill Is Gone," the bit where he hits a legendary, mellow blues chord and sings the legendary line "The thrill is gone…"
I'm not proud of the fact that I've never tuned into the song beside that sole K-Tel ad-length snippet. I must have heard it all the way through a few times, but it made no impression on me. Whenever I saw King playing on late-night talk shows and gala events, I couldn't get beyond the legendary, tuxedo-clad figure sweating out trills on his legendary Lucille, his eyes closed and his jowls shaking in ecstasy in response to his 2-measure lick, while seated on a chair.
My other bit of evidence of B.B.'s legendary contributions to the world of music came to me through his legendary contributions to U2's not-quite legendary blooz exercise, "When Love Came to Town." Let's face it: I couldn't even begin to use the term "not-quite legendary" without B.B.'s 2-measure trills.
So listen, before you get mad at me and post "How dare you…!" replies, please let me know WHY I'm wrong in feeling like B.B. King was the Eric Clapton of the Blues, that is, the most highly regarded musician of his genre for little obvious evidence. I'm aware that the joke is probably on me, but I want to learn exactly why B.B. is due the following heartfelt, official remembrance: