Do we try over spilt milk?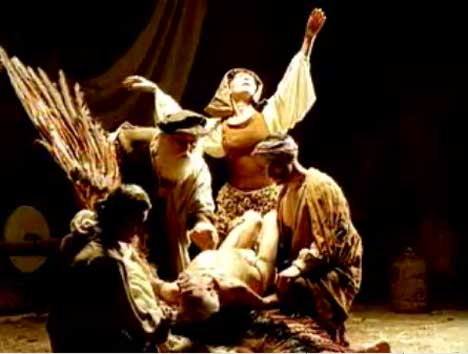 The last thing I want to do is make this into a pile-on session on the pride of the American '80s underground, REM. If you'll recall, some Townspeople already had the opportunity to do this when the band we inducted into the Rock 'n Roll Hall of Fame some weeks ago.
We are not here to indict the recording career of REM, Mike Mills' shocking switch to the Nudie suit and unkempt hair Look, or even Michael Stipe's overall Look portfolio. Today, there's but one Rock Crime for which REM must answer: the video for "Losing My Religion". Love the song itself or hate it – and surely there are many on each side of that fence – it is solely the 1991 MTV Music Awards' Best Video of the Year, directed by Tarsem Singh, that is accused of high crimes against rock.
If you were anywhere near a tv in the early '90s, surely you're all-too-familiar with this video. There's the religious imagery and obvious hints at the framing of famous photographers' works as well as the works of Caravaggio. There's tho whole Soviet poster art/salt of the earth imagery: large-nosed, honest folk with stubble and somber faces, looking off into the distance or, briefly, directly at you, the viewer of these important messages from a singer who'd already made a career of mumbling nonsensical lyrics to cover for his near-crippling introversion. Jeez, does anyone look like they're having a good time in this video?

Certainly, by 1991, the promise that early rock videos from the late-70s held, as first seen on shows like the syndicated Rockworld was long broken. Growing up with that stuff, I was primed for a lifetime of bands lip-synching in ill-fitting suits and loud shirts on stark white backgrounds, with nothing more to focus on that the players' boss gear and sometimes cool hairdos.
This next video has little to do with stark white backgrounds, but everything to do with my memories of Rockwold. See if the band rings a bell!

Now, do you recall the absolute rush in seeing this one for the first time one late Saturday night in your high school years?
[dm]xr22b_elvis-costello-pump-it-up[/dm]
Whew! This must be how powerful that stuff the narcs played by Jason Patric and Jennifer Jason Leigh got hooked on in that movie Rush. For second-class '60s gear fetishist reasons alone these videos were a godsend. Dreams of geek-rock stardom were hatched based on this sort of video. What dreams were hatched watching the video for "Losing My Religion"?
Here's another fun, white-background classic:
[dm]xn4ne_the-specials-a-message-to-you-rudy[/dm]
Ah, if only I could go back in time, lose 40 pounds, believe great things were right around the corner, and have no clue what life was about! That's how inspiring I still find these old videos, videos which portray rock 'n roll as the vital, community force it was created to serve.
Perhaps the humble highpoint of the early video age was Elvis Costello & the Attractions' trio of videos for Get Happy!! Remember these goofy ones, which did away with gear altogether and simply pulled on the spirit of Beatles' movies and other throwaway '60s pop imagery:

Shortly thereafter, the first wave of wholly nonmusical videos, such as early Madonna videos, would hit. Gear fetishism was replaced by mascara and rubber bracelet fetishism. At least these videos were still in the "fun pop" tradition. They were fanning the flames of all the Elvis (Presley, younger readers) movie/Beach Blanket Bingo nonsense that Motown and British Invasion artists successfully integrated into their works before the heavy, heavy Festival Era wiped that stuff out of vogue. I could only complain so much.
Hair farmer pop-metal would follow, which was painful to watch, but at least it was as idiotic as anything I liked, just a different idiotic aesthetic was in operation. The video medium was still being used to foster the vital, community spirit of the genre.
Then along comes the REM video. Here was a band that built its indie cred – hell, that led the way in buidling the concept of indie cred itself – through ensemble playing; cool '60s gear; polka-dotted shirts; long messy hair; and cryptic, jangly music. Here was REM coming out of the closet wearing unbleached cotton peasant garb, looking forlornly as their newly crowned Leader, Stipe, gesticulates wildly while going on about who knew what at the time. The new hierarchy within the band was shocking. Remember when REM portrayed itself as a close-knit, all-for-one, one-for-all group? Suddenly, bandmates are giving Stipe shoulder rubs then standing in the shadows, barely taking part in the video.
The funny thing is, right around the time of the release of the video for "Losing My Religion", REM released another video that was one of the last gasps for the '60s-based video virtues that I'd treasured:
[dm]xt7ox_rem-shiny-happy-people[/dm]
Everybody gets into the act, even their buddy Kate Pierson, from the always-fun B-52s! I know some folks want to flag Stipe for a misdemeanor for that Dead End Kids/Bowery Boys hat, and yeah, he's still doing the meat cleaver hand gestures, but come on, sticks in the mud, this is a video that represents the vital, community spirit of the genre.
What does the video for "Losing My Religion" represent? For starters, its got no gear, no cool fashions, no good hair, and no community spirit. It's no fun whatsoever. It has nothing to do with rock 'n roll. It's Michael Stipe telling Peter Buck he's had it with the slovenly record store clerk routine. Stipe told the band it was high time that he put them on his back and get them the hit they deserved, dagnabbit! It's actually a heroic performance by Stipe (and moreso, when taken into context with his eventually straightfoward explanation of the song's meaning, as told on Fresh Air, among other outlets).
The video and the dynamic shift it initiated were also and the final nails in the coffin of the band as fans had loved them until this point. Buck, for what it's worth, would show little interest in REM as anything but a cash cow. Mills let his Look go to put and tried to compensate with the Nudie suit. Bill Berry's health forced him out of the band, but ask any drummer in the house if playing behind a mandolin is worth coming back from a death scare. Think the drummer in Deaf Leppard had any reservations about finding a way to get back on the throne and bash away behind that heavy metal thunder?
However, it's not the video's eventual killing of REM that is its most heinous crime. It's the video's role in the killing of Everyman's Dream of the Pop Star, as we knew it from rock 'n roll's first 2 decades and even through the bubblegum, glam, and disco eras of the '70s, that leads me to charge them with the most severe of Rock Crimes.
The crimes of the video for "Losing My Religion" resonate today, here:

Ugh! Who beyond the age of 5 or 6 wants to dress up like Sufjan Stevens, with that ridiculous straw hat? Why can't he look up? Why can't he make eye contact? What's he hiding? What the hell did he grow up dreaming about in his geek-rock fantasies, getting to hang with the winged monkey guy from the video for "Losing My Religion"? The John Lurie-like miner? Man, it's fantasies like that that should be fueling careers in social work, not rock 'n roll. These are the new geek-rock dreams that have been fueled by REM's breakthrough moment. We all know that phony Beatlemania had bitten the dust, but replace it with something else that's cool.
I ask of you, Townspeople of the jury, do we convict the video for REM's "Losing My Religion" for a Rock Crime of the highest order?
While we deliberate, I'll leave you with this fulfilled, new geek-rock dream: