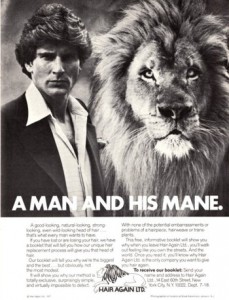 I once wrote about my sexual awakening, of sorts, in the chairs of a "unisex" hair salon in Northeast Philadelphia. Back then, while the bearded, swishy, hard-partying guy who cut my hair shared nods-and-winks–laden stories with the bearded, swishy, hard-partying guy cutting a woman's hair in the next chair, I was surrounded by '70s Hair Salon Artwork: models with cascading Farrah Fawcett-Majors locks and shirts unbuttoned almost far enough to catch a peak of nipple. It was a glorious time to be a horny teenage boy.
By the '80s, Hair Salon Artwork changed. There were less soft, inviting photographs and more stark, harsh, often cartoonish images used to show off the era's hairstyles. Think of the photography of Helmut Newton. Or that damn cartoonish model smiling at no one in particular from the Rio album cover. There was no invitation to join these women, to be their soulmates in flowing locks and tight-yet-loosely buttoned clothing. The models of '80s Hair Salon Artwork challenged horny young males to enjoy them at the boys' own risk, from an exclusively voyeuristic perspective. Not that I didn't take on that challenge now and then, but it left me with a sense of guilt and shame that no warm Farrah-styled '70s image ever left me. For shame, Rio album cover and '80s Hair Salon Artwork!
So my efforts to walk through the '80s with a perpetual (and optimistic) hard-on were thwarted.
The Rio album cover signified the end of the warm, inviting album cover art I'd cum of age to as a yon' teen. Even soft, inviting, non-threatening Olivia Newton-John got physical. I could at least imaging taking to the former. The latter, tuned up for a possible post-entertainment industry career as a pharmaceutical sales rep, made it clear I should keep my distance.