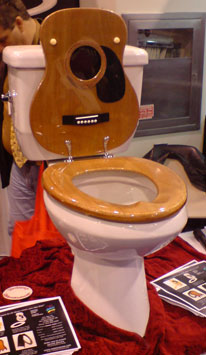 LOS ANGELES (Reuters) – Bob Dylan has sung about wind many times — winds of change, the "Idiot Wind," and the winds that hit heavy on the borderline.

But some of his California neighbors on Tuesday were singing a new tune about what is blowin' in the wind from his Malibu toilet.

A family living near the 67-year-old folk and rock icon's house in the posh California beachside community of Malibu have complained to city officials about an outdoor portable toilet, which is apparently used by guards on Dylan's compound.

Cindy and David Emminger say the toilet wafts fumes from waste treatment chemicals, and that the smell carried by breezes from the Pacific Ocean makes their family feel ill.

"It's a scandal – 'Mr Civil Rights' is killing our civil rights," David Emminger told the Los Angeles Times.
Full story here- Bob Dylan's toilet smell blows in the wind
Your mission, should you chose to accept it, is top both my and Reuter's headlines for this story. Should any Townsman, or Townswoman be "caught or killed, The Back Office will disavow any knowledge of your actions.